Research that finds a hearing: Carsten Dormann among "Highly Cited Researchers" 2019
The Web of Science lists the most influential researchers in an annual ranking. Seven academics from the University of Freiburg have made it on this prestigious list - among them: FRIAS fellow Carsten Dormann.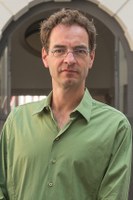 Photo: Roger Kupfer
Once a year, the database Web of Science evaluates researchers and their influence across the sciences based on citation. Their findings are published in the form of a ranking. For 2019, a handful of Freiburg researchers are listed in the "Highly Cited Researchers", including FRIAS fellow Professor Carsten Dormann. Congratulations!
In academia, reputation is the prevailing currency: University positions, grants, and public visibility depend on the level of prominence a researcher has achieved in his or her specific field. One indicator of academic reputation is the number of citations: The more often a publication has been cited, the higher its impact is. The underlying assumption is that groundbreaking findings serve as a point of reference that paves the way for further research on a specific research item.
The list of "Highly Cited Researchers" 2019 names more than 6,000 scientists who are considered as contributing "disproportionately to extending the frontiers of knowledge and gaining for society innovations", as the executive summary of the ranking coins it. Carsten Dormann, professor of biometry and environmental system analysis, is one of them. He is listed as belonging to the 1 % of ecologists, judged by the number of times he is cited by his peers. Dormann's research focuses on methodology and how to further enhance statistical models in ecology, an interest he pursues together with his colleagues Professor Stefan Baumgärtner and Professor Kerstin Stahl at FRIAS. The trio forms the head of this year's focus group "Environmental Forecasting".
Including Dormann 7 academics of the University of Freiburg have made it into the prestigious ranking, all of them are researchers in natural and life sciences as well as social sciences. The ranking includes 21 disciplines that are included in the international "Essential Science Indicators" database, ranging from Clinical Medicine to Economics & Business. In terms of metaanalysis, rankings like these reveal differences between disciplinary cultures: In Medicine, for instance, the number of citations needed to be included in the top 1 % is much higher than in Economics. Regional and cultural conditions of research may also play a role when it comes to quantifying the impact of research: The United States is home to 44,0 % of the researchers listed in the ranking, while at the same time the report reveals a significant increase of citations in researchers from China (from 7,9 % in 2018 to 10,2 % in 2019). Keeping these differences in mind, the authors of the ranking conclude their report with a reminder: "One should never rely on publication and citation data as a substitute for reading and assessing a researcher's publications – that is, for human judgment." (Highly Cited Researchers 2019 – Executive Summary).
Nevertheless, evaluating the quality and impact of a researcher's work by its citation frequency is a more than viable way – and to be one of the few researchers worldwide who made it on the list speaks for itself.
Further information
2019/12/06