FRIAS Junior Fellow Awarded Renowned Research Award
FRIAS Junior Fellow Dr. Fritz Renner awarded the 2018 Sofia Kovalevskaya Award: €1.64 million for depression research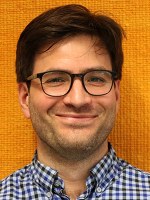 Picture: private
Psychologist and FRIAS Junior Fellow Dr. Fritz Renner (Freiburg/Cambridge) was awarded the 2018 Sofia Kovalevskaya Award, a €1.64 million research grant issued by the Alexander von Humbolt Foundation. The distinction is one of the most highly endowed research awards in Germany and is financed by the Federal Ministry of Education and Research to foster the careers of exceptional junior researchers and support the realization of innovative projects.
With funding for his project 'Fighting depression with imagination', Renner will be able invite guest researchers to Freiburg and establish a research group at the department of psychology.
For more information, see the University of Freiburg's press release and the press release from the Alexander von Humbolt Foundation.
18/09/11