Prestigious Toynbee Prize for an excellent scientist of world history
Jürgen Osterhammel, member of the FRIAS Scientific Advisory Board, receives the Toynbee Prize 2017.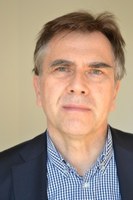 Every year, the Toynbee Prize Foundation awards distinguished practitioners of global history with its renowned Toynbee Prize. This year, the Foundation has selected Jürgen Osterhammel, Professor of  Modern and Contemporary History  at the University of Konstanz and  member of the FRIAS Scientific Advisory Board (SAB). He is known to readers of global history for his book "Die Verwandlung der Welt" / "The Transformation of the World", a global history of the nineteenth century, which received worldwide praise after being published in 2009. Since 1999, Jürgen Osterhammel, together with Akira Iriye from the University of Harvard, USA, has co-edited a world history in six volumes called "A World Connecting", of which four volumes have already been published. Beyond these achievements in the field of global history, Osterhammel is also a noted specialist in the field of Chinese history.
In his laudatory address, Jeremy Adelman, historian at Princeton University, noted that Osterhammel's work demonstrates a "peerless grasp of multiple historiographic traditions, and an ability to combine lively empirical detail with brilliant conceptual insights." The Toynbee Prize Foundation, named after the universal historian Arnold J. Toynbee, was chartered in 1987 to contribute to the development of the social sciences.
Jürgen Osterhammel has held the Chair of  Modern and Contemporary History at the University of Konstanz since 1999. He is a member of the Leopoldina National Academy of Sciences, of the Berlin-Brandenburgische Akademie der Wissenschaften, the Academia Europaea as well as corresponding member of the Austrian Academy of Sciences, the Academy of Turin, and the British Academy. He was involved in several academic events of the former FRIAS School of History and continues to be  closely connected to FRIAS as a member of its SAB.
Further information on the Prize ceremony and Jürgen Osterhammel.
08/2016