FRIAS 11 published
The 11th issue of FRIAS NEWS with the title "A SUCCESSFUL START" has just been published. The title refers to the successful launch of the new lecture series "Freiburger Horizonte" with Prof. Klaus Töpfer this spring.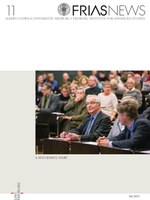 An interview with the organizers of the FRIAS Research Focus "Designed Quantum Transport in Complex Materials" deals withthe connection between fundamental and applied research in the German research community and gives insights into their daily scientific work carried out at FRIAS.
In the series "Portrait", the researchers Mei Li and Jianying Yang, who focus on the regulation of the immune system, are introduced, as well as the linguist Brook Bolander, who analyses the significance of the English language for the Muslim community of the Ismailis. In the series "Alumni Portrait", Peter Utz describes how he used his fellowship at FRIAS in order to finalize his project on "doom scenarios in Swiss literature".
Furthermore, the results of a two-day junior researcher conference on the topic of "translocal spatial practices, urban transformations" are presented, which focused on migration and mobility in Southeast Asia and therefore tied in well with the current FRIAS Research Focus "Dynamic Alignments and Dealignments in Global Southeast Asia".
News and event announcements round up the issue.
06/2015
FRIAS NEWS 11 (download pdf)
To order your free copy please contact us: presse@frias.uni-freiburg.de.
Translations
Previous issues: