FRIAS Fellows receive German-Israeli Grant for their research on protein phosphorylation
The two FRIAS fellows Hagai Abeliovich, Hebrew University Jerusalem, and Jörn Dengjel, Albert-Ludwigs-University Freiburg, received a bi-national grant from the German-Israeli Foundation for Scientific Research and Development (GIF). GIF aims to promote and fund basic and applied scientific research projects, to strengthen and advance research and development in Israel and Germany.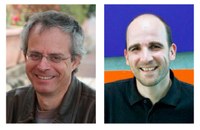 The two scientists receive € 180,000 within the next three years to study "The role of protein phosphorylation in regulating the intra-mitochondrial selectivity of mitophagic processes". They could show in an initial study that defective mitochondria, cellular power plants, are not degraded as a whole (1-2). In contrast to the general concept, it appears that sub-compartments are sorted and specifically marked for degradation. In the next three years Abeliovich and Dengjel plan to determine the global relationship between mitochondrial matrix protein phosphorylation and degradation rates.
(1) Abeliovich H, Zarei M, Rigbolt KT, Youle RJ, Dengjel J. Involvement of mitochondrial dynamics in the segregation of mitochondrial matrix proteins during stationary phase mitophagy. Nat Commun. 2013;4:2789.
(2) Dengjel J, Abeliovich H. Musical chairs during mitophagy. Autophagy. 2014; 4:706-7.
08/2015