Freiburger Horizonte: Germany's Energy Transition on July 9, 2015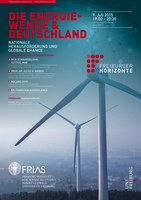 After the successful start of the Freiburger Horizonte with Klaus Töpfer on February 12, 2015, FRIAS is holding the follow-up event for the topic of "Germany's Energy Transition".
The panel discussion on "Germany's Energy Transition: National Challenge, Global Opportunity" will take place on July 9, 2015 from 7:00 – 8:30 pm at the Aula of the University of Freiburg.
Participants:
Parliamentary State Secretary Rita Schwarzelühr-Sutter, Member of the German Bundestag;
Prof. Dr. Eicke Weber, Director of the Fraunhofer Institute for Solar Energy Systems ISE in Freiburg;
Roland Hipp, Deputy Managing Director of Greenpeace Deutschland;
Dr. Thorsten Radensleben, Chairman of the Badenova AG & Co. KG.


Moderator: Stefan Pawellek
The panel discussion will be held in German. It is open to the public, no entrance fee.
Date: July 9, 2015
Time: 7:00 – 8:30 pm
Location: University of Freiburg, College Building I, Aula