Emmy Noether-Research Group for Simone Müller
Dr. Simone Müller, member of the FRIAS-Project Group "A Green City Mandate", will head an Emmy Noether-Programme on the topic of the global waste economy at the Rachel Carson Center for Environment and Society in Munich, starting in September 2016.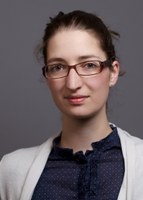 The Emmy Noether-Programme of the German Research Foundation DFG enables junior researchers of all disciplines to head a research group for a period of five years, supporting them in achieving independence at an early stage of their scientific careers. By successfully completing the programme, these junior researchers furthermore gain the qualifications required for a position as professor in a German university.
With her Emmy Noether-research group, Simone Müller will study the global economy of exporting and importing waste. To this aim, she focusses on so called "ghost acres", i.e. areas in which toxic waste exported from industrialised nations to developing countries is dumped. While such "ghost acres" were a phenomenon of nineteenth century industrialisation in Europe, nowadays they are found in developing countries such as Bangladesh, India, Ecuador, Ghana and others.
After the environmental turn in the 1970s, toxic waste levels as well as garbage disposal cost, rose exorbitantly in the industrialised nations. These countries then started to "relabel" their toxic waste as fit for recycling and exporting it to non-OECD nations. Coastal regions in Bangladesh, Haiti, India and other countries transformed into gigantic waste disposal sites, with catastrophic effects on the environment and the local population.
In her research project, Simone Müller is particularly interested in how it was possible that developing countries voluntarily imported this waste, despite expanding international environmental legislation. Furthermore, she will analyse whether national, transnational and global "waste regimes" are simultaneously built on a system of "voluntary exchange" and a "garbage imperialism".
Simone Müller studied English studies, history and politics at the University of Würzburg and wrote her doctoral thesis at the John F. Kennedy-Institute for North America Studies at the  Freie Universität Berlin, with research stays at Harvard University and the German Historical Institute in Washington D.C. Since September 2013 she is a lecturer for North American History at the Albert-Ludwigs-Universität Freiburg. Since September 2015, she is also a member of the FRIAS-Project Group "A Green City Mandate", which analyses how and if actors of urban planning respond to environmental challenges such as pollution, sanitation, and energy sustainability.
Further information on Simone Müller
Further information about the FRIAS Project Group "A Green City Mandate"
05/2016