Commitment and Excellence in Research
FRIAS project group member Bernhard Breit receives the Khwarizimi International Award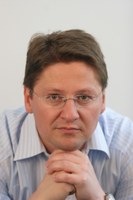 The Iranian Research Organization for Science and Technology (IROST), affiliated to the Iranian Ministry of Science, Research and Technology, is awarding the Khwarizmi International Award to Prof. Breit for his dedication, excellence and sustained hard work in the field of research. Since 1987, the KIA is presented to scientists for outstanding achievements and innovations that advance science and technology. It is the most important Iranian distinction of its kind and is presented by the President of Iran, Hassan Rouhani, and the Iranian Minister for Science, Research and Technology.
The award ceremony took place on 7 March 2016 in Iran's capital Tehran in the presence of Prof. Breit. He is staying in Iran for several days and will present his research at renowned Iranian universities and institutions.
Bernhard Breit is Co-Organizer of the joint project group between FRIAS and Nagoya IAS "Multicomponent Supramolecular Catalysts for Sustainable Chemical Synthesis".