18th Hermann Staudinger Lecture with Nobel Laureate David Wineland: Superposition, Entanglement, and Raising Schrödinger's Cat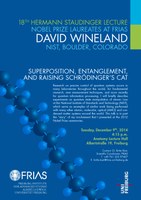 The Hermann Staudinger Lectures are a series of talks initiated by the former FRIAS School of Soft Matter Research in 2008. FRIAS invites international Nobel Laureates to give a lecture in Freiburg two to three times a year. The lecture series is named after Nobel Laureate Hermann Staudinger who taught at the University of Freiburg from 1926–1951 and was awarded the Nobel Prize in Chemistry in 1953.
This lecture is open to the public.
Date: 9th December 2014 Time: 16:15
Venue: Pathologie/Anatomie, Albertstr. 19, 79104 Freiburg
Superposition, Entanglement, and Raising Schrödinger's Cat
Research on precise control of quantum systems occurs in many laboratories throughout the world, for fundamental research, new measurement techniques, and more recently for quantum information processing. I will briefly describe experiments on quantum state manipulation of atomic ions at the National Institute of Standards and Technology (NIST), which serve as examples of similar work being performed with many other atomic, molecular, optical (AMO) and condensed matter systems around the world. This talk is in part the "story" of my involvement that I presented at the 2012 Nobel Prize ceremonies.
12/2014