Documentary "Overgames"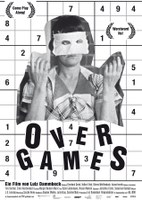 Documentary "Overgames"
May 30, 2016, 7:30 pm
aka Filmclub, HS 2006, KG II, University of Freiburg
Subsequent discussion with the director Lutz Dammbeck, Dr. Christina Schröer and Prof. Sabine Hake
When
May 30, 2016
from

07:00 PM

to

09:30 PM

Where

aka Filmclub, HS 2006, KG II, Universität Freiburg

Attendees

öffentlich / open to the public



Add event to calendar

vCal




iCal
In einer Talkshow erzählt der Schauspieler Joachim Fuchsberger, dass die Spiele seiner 1960 erstmals im westdeutschen Fernsehen ausgestrahlten Show "Nur nicht nervös werden" in der amerikanischen Psychiatrie entwickelt wurden. Auf die Frage, "und wieviel Patienten haben Dir da zugeschaut" antwortet er: "Eine ganze Nation! Eine verrückte, eine psychisch gestörte Nation". Wieso waren die Deutschen, genauer: die Westdeutschen, damals eine psychisch gestörte Nation?
Ein Film über heitere und ernste Spiele, Therapien zur Um- und Selbstumerziehung, sowie die Ideengeschichte einer permanenten Revolution. Es treten auf: Regisseure und Produzenten von Gameshows, Psychiater, Anthropologen und Paranoiker verschiedenster Couleur.
Im Anschluss an die Filmvorführung gibt es die Möglichkeit zur Diskussion mit dem Filmemacher, der Kulturwissenschaftlerin Sabine Hake (Austin/FRIAS) sowie der Historikerin Christina Schröer (Freiburg/FRIAS).
Overgames
Dokumentarfilm
© 2015, 157min (TV), 164min (Kino)
Buch und Regie: Lutz Dammbeck
Kamera: Börres Weiffenbach, Eberhard Geick, Istvan Imreh, Volker Tittel
Schnitt: Margot Neubert-Maric
Musik: J.U.Lensing
Redaktion: Dagmar Mielke (rbb), Jutta Krug (WDR), Caroline Mutz (Arte)
Produktion: Lutz Dammbeck Filmproduktion
in Koproduktion mit Rundfunk Berlin-Brandenburg und Westdeutscher Rundfunk
in Zusammenarbeit mit Arte
Gefördert von Der Beauftragten der Bundesregierung für Kultur und Medien (BKM), Filmförderung Hamburg Schleswig-Holstein GmbH, Medienboard Berlin-Brandenburg GmbH, Filmstiftung Nordrhein-Westfalen GmbH, Kulturelle Filmförderung Mecklenburg-Vorpommern, Kulturstiftung des Freistaates Sachsen