David Kauzlaric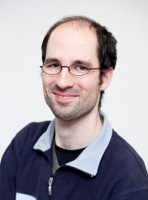 IMTEK
Postdoc with DFG-project "Simulation of
Graphene-based nanoresonators"

Freiburg Institute for Advanced Studies
Albertstr. 19
79104 Freiburg im Breisgau
Phone
+49 (0)761-203 97338
David Kauzlaric got his diploma in microsystems engineering in 2003 at the University of Freiburg and his PhD in 2009. His PhD-thesis was on particle based simulation of MEMS/NEMS processes and components. From 2003 to 2010 he worked as a PhD-student and Post-Doc at Jan Korvink's chair for simulation of the Institute for Microsystems Engineering (IMTEK), University of Freiburg on process simulation, dissipative particle dynamics, coarse-graining of carbon nanotubes and design of object-oriented particle based simulation software. Since 2010 he is a Post-Doc working at the Freiburg Institute for Advanced Studies (FRIAS) on molecular coarse-graining with projection operator techniques for Graphene-based nanoresonators, first in the group of senior-fellow Sauro Succi, and then as a leader of his own DFG research project. In 2012 he worked in the group of Prof. Pep Español at the Departamento de Física Fundamental at the Universidad Nacional de Educación a Distancia (UNED) in Madrid.
His research interest is the simulation of micro- and nanosystems and processes with particle methods. He is especially interested in mesoscale simulations and molecular coarse-graining.
David Kauzlaric is the main author of the particle simulation software SYMPLER (http://sympler.org).
Coarse graining of molecular systems.
Please follow this link for a complete list