23rd Hermann Staudinger Lecture with Nobel Laureate Hiroshi Amano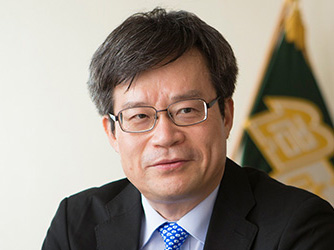 Nitride-Based Future Electronics for Establishing a Sustainable Society
23rd Hermann Staudinger Lecture with Nobel Laureate Hiroshi Amano (Nagoya University)
March 16, 2017
4:15 pm
Anatomy Lecture Hall, Albertstr. 19
Nitride-Based Future Electronics for Establishing a Sustainable Society
When
Mar 16, 2017
from

04:15 PM

to

05:30 PM

Where

Lecture Hall Pathology/Anatomy, Albertstr. 19

Contact Name
Dr. Britta Küst
Contact Phone

+49 (0) 761/203-97407

Attendees

öffentlich / open to the public



Add event to calendar

vCal




iCal
Report on the 23rd Hermann Staudinger Lecture with Hiroshi Amano (by Anli Ding)

It was a great pleasure to welcome Professor Hiroshi Amano from the Department of Electrical Engineering and Computer Science at Nagoya University as a guest and speaker of 23rd Hermann Staudinger lecture at FRIAS. In 2014, Hiroshi Amano together with Isamu Akasaki and Shuji Nakamura were awarded the Nobel Prize in Physics " for the invention of efficient blue light-emitting diodes which has enabled bright and energy-saving white light sources".
He started the lecture by telling a funny story how he learned about being chosen for this prestigious award. Further, by commenting on the most important events leading to the invention Hiroshi Amano drew a clear picture of how huge the challenges were and how an enormous amount of effort and persistence was required to overcome them. Finally, he described current and future applications of blue light emitting diodes (LEDs) and, in general, Gallium Nitride (GaN)-based devices.
In 1981 Isamu Akasaki took a professor position at Nagoya University, where Hiroshi Amano was an undergraduate student of electrical engineering.  It was the time of rapid development of personal computer systems (Apple, Microsoft), with large cathode ray tube (CRT) monitors. Red and green LEDs had already been invented; however, for much thinner LED displays the last of the three RGB colour space constituents was still missing. Invention of blue LEDs had proven difficult, thus with hope to contribute and desire to change the world by improving people´s lives, Hiroshi Amano chose GaN-based blue LEDs as his dissertation topic in the group of Prof. Akasaki.
In those early days, the red LEDs were based on GaAs and the green ones – on Gallium Phosphide (GaP). As Hiroshi Amano pointed out in his lecture, from the periodic table it can be seen that blue LEDs were likely to be based on GaN, since As, P, and N are group V elements with their periods decreasing by one. It was later proved to have been the right choice, as one of the alternatives, Silicon carbide (SiC), exhibited only poor efficiency due to indirect interband transition. Another alternative, Zinc Selenide (ZnSe), which 99% of the blue LED researchers had already abandoned GaN for, lost the race due to shorter carrier lifetime and longer wavelength of emitted light. Having chosen this path, in total three challenges had to be overcome at that time to accomplish blue LEDs: growth of high quality crystalline GaN, controlled p-type doping of GaN, and lastly, growth of ternary compounds, such as Indium Gallium Nitride (InGaN) to produce heterojunctions.
According to Hiroshi Amano, due to extremely high cost of commercial MOVPE (Metalorganic Vapour Phase Epitaxy) system and lack of funds, he and his fellow students developed a MOVPE equipment themselves. After three years of continuous trials he had successfully grown a high-quality GaN heteroepitaxial layer, even despite the huge lattice mismatch of 16% between GaN and sapphire substrate. Regardless of the huge value of his achievement, nobody in the scientific community seemed to notice because researchers were focusing on ZnSe. During next three years Hiroshi Amano found that activation of p-type doping was necessary and finally found an acceptor with lower activation energy – Mg. Overcoming the third challenge, i.e. growing InGaN, however, slipped through his fingers due an unfortunate choice of hydrogen instead of nitrogen as carrier gas for MOVPE.
During the rest of lecture, a multitude of fascinating ideas were introduced about where GaN-based devices are used today and could be applied in the future, starting with the widely known white lighting with LEDs and LED displays and more exotic applications such as near-UV white lighting at night to prevent near-sightedness, or using deep-UV LEDs for water purification/sterilization, also saving nearly 10% of total electricity consumption by replacing the currently used Si-based power devices with GaN transistors. The audience highly appreciated this insight into the invention of blue LEDs, which they expressed by warm applause and active discussion afterwards.

Nitride-Based Future Electronics for Establishing a Sustainable Society
Hermann Staudinger Lecture by Nobel Laureate Hiroshi Amano
Director, Center for Integrated Research of Future Electronics (CIRFE), Institute of Materials and Systems for Sustainability (IMaSS), Akasaki Research Center, Venture Business Laboratory, Nagoya University, Nagoya 484-8603, Japan
The younger generation can enjoy full-color portable games because of the emergence of GaN-based blue LEDs. In combination with phosphors, they can act as  white light source and are used in general lighting. AlGaN-based deep-UV LEDs are effective for sterilization and purification of water. Microwave amplifiers employing GaAs-based HFETs are being replaced with those employing GaN-based HFETs because of their capability of higher-power operation. By replacing Si-based power devices, the average efficiency of inverters or converters can be improved from 95% to more than 99%. The current status of our understanding of nitride semiconductors will be discussed.