10-year anniversary of FRIAS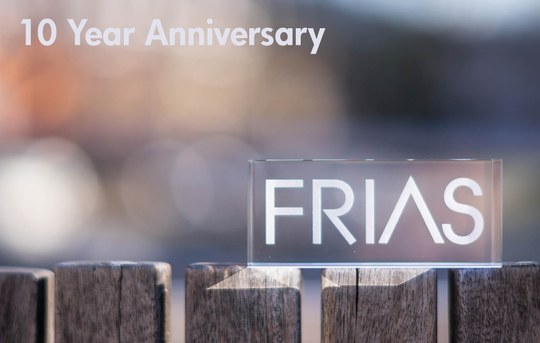 When
Jun 29, 2018
from

02:00 PM

to

05:00 PM

Contact Name
Dr. Britta Küst
Attendees

Universitätsoffen / Open to university members



Add event to calendar

vCal




iCal
On April 1, 2008, the Freiburg Institute for Advanced Studies (FRIAS) first opened its doors to scholars of renown from all parts of the world, providing them the opportunity to embark on a first-class research project of their own choice in Freiburg. The decade since has been filled with changing groups of fellows of many nationalities and manifold possibilities for inter-disciplinary and inspiring exchange with the Freiburg research community.
On Friday, June 29, 2018, the institute will be celebrating its 10-year anniversary with commemorative speeches by the vice rector Gunther Neuhaus, the director of the Swedish Collegium for Advanced Study in Uppsala Björn Wittrock and the former directors of FRIAS Werner Frick and Hermann Grabert as well as the current spokesman of the board of directors Bernd Kortmann. Furthermore, Silja Vöneky and Philipp Kellmeyer will be speaking on the normative challenges in the interaction between humankind and intelligent systems.
An afternoon with a musical intermezzo - "Les haulz et les bas" followed by a reception in the FRIAS lounge and on the terrace.