Freiburger Horizonte - Winfried Kretschmann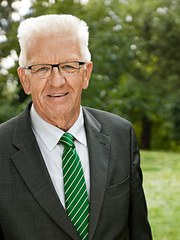 Winfried Kretschmann
Ministerpräsident des Landes Baden-Württemberg
© Bündnis 90 / Die Grünen Baden-Württemberg
Welche Wissenschaft braucht die Gesellschaft?
When
Nov 27, 2018
from

07:00 PM

to

08:30 PM

Where

Universität Freiburg, KG II, Audimax

Contact Name
Dr. Arndt Michael
Contact Phone

+49 (0)761 203-2001

Attendees

Öffentlich / Open to public



Add event to calendar

vCal




iCal
Welche Wissenschaft braucht die Gesellschaft?
Vortrag von Ministerpräsident Winfried Kretschmann
Auf Einladung des Freiburg Institute for Advanced Studies (FRIAS) wird der Ministerpräsident von Baden-Württemberg, Winfried Kretschmann, am 27. November zum aktuellen Thema "Welche Wissenschaft braucht unsere Gesellschaft?" referieren und mit dem Publikum diskutieren.
Die Vortragssprache ist Deutsch.
Über den Referenten
Winfried Kretschmann war von 2002 bis 2011 Fraktionsvorsitzenden von Bündnis 90/Die Grünen im baden-württembergischen Landtag. Seit 2011 ist er Ministerpräsident des Landes Baden-Württemberg. Von 2012 bis 2013 war er Präsident des Bundesrates und von 2013 bis 2014 Vorsitzender der Ministerpräsidentenkonferenz.
Einlass
Eintritt nur mit kostenloser Einlasskarte. Die Einlasskarten sind am 27.11.18 ab 18.00 Uhr an beiden Eingängen zum Audimax erhältlich. Eine vorherige Kartenreservierung ist nicht möglich. Pro Person maximal 2 Karten. Aus Sicherheitsgründen müssen alle Jacken, Mäntel und Taschen vor Eintritt in das Audimax an der Garderobe abgegeben werden.
Hinweis
Bitte beachten Sie, dass während der Veranstaltung zu Zwecken der Öffentlichkeitsarbeit Foto- und Videoaufnahmen gemacht werden.