Conference - SAALS 3: 3rd Saami Linguistics Symposium
When

Oct 19, 2017 08:00 AM

to


Oct 20, 2017 07:00 PM

Where

FRIAS, Albertstr. 19, seminar room

Contact Name
Lena Walter
Contact Phone

+49 (0)761 203-97362

Add event to calendar

vCal




iCal
On October 18–20 2017, the 3rd Saami Linguistics Symposium will take place. The Symposium is the continuation of a series of international symposia previously held in Tromsø in 2006 and 2009. The purpose of the symposium is to give researchers the opportunity to present current research to their peers, participate in formal and informal discussions on relevant topics, and explore potential opportunities for future collaborative work. We especially encourage younger researchers at the Master's and Ph.D. levels to present their work. 
Papers related to Saami languages and linguistics including the sociology of language, language teaching, and language revitalization are welcome. The keynote speech will be given by Matthew Baerman (Surrey Morphology Group) and address the topic of inflectional morphology in a cross-linguistic perspective. With this in mind, we are particularly looking forward to papers dealing with Saami inflectional morphology. 
Please submit an anonymous, one-page abstract in English or Saami via EasyChair by 15 June 2017.
Organisers
The symposium is being organized by Michael Rießler (FRIAS and Freiburg Research Group in Saami Studies), Joshua Wilbur (Freiburg Research Group in Saami Studies), Tim Feist (Surrey Morphology Group), and Flore Picard (Université Paris-Sorbonne, Paris IV), and in collaboration with the Freiburg Research Group in Saami Studies and the Foundation for Endangered Languages Regional Interest Group «Northern Eurasia». Financial and organisational support come from FRIAS, the Department for Scandinavian Studies at the University of Freiburg, and the Hermann Paul Centre for Linguistics..
Registration
We can only accept a limited number of additional participants. If you are interested in participating, please send an e-mail to
Joshua Wilbur joshua.wilbur@skandinavistik.uni-freiburg.de and/or
Michael Rießler michael.riessler@skandinavistik.uni-freiburg.de. 
Program
Wednesday, 18 October 2017
19:30

Informal welcoming event (optional)

Location: Schlappen, Löwenstraße 2, https://www.schlappen.com
Thursday, 19 October 2017
9:00

 Welcome

09:15–10:30


Keynote lecture

Matthew Baerman
Three-way length alternations in morphology

10:30–11:30

Coffee break and poster session

Merit Müller
On variation in adjective attributes in Inari Saami

Marjatta Jomppanen
Sámegielaid skuvlaoahpahus Oulu gávpogis

Tatiana Agranat
Kildin Saami according to the UNESCO Major Evaluative Factors of Language
Vitality

11:30



Session 1

Tim Feist
Making sense of the complex inflectional morphology of Skolt Saami

12:00

Flore Picard
Modeling Saami inflectional morphology in a diasystemic perspective

12.30

Olle Kejonen
Dual number in a North Saami dialect

13:00–14:30
Lunch*

14:30


Session 2

Hanna Danbolt Ajer
Before time: variation in Lule Sami adpositions

15:00

Torbjörn Söder
South Saami adpositions

15.30

David Kroik
Differential Object Marking in South Saami

16:00–16:30

Coffee Break

16.30

Session 3

Petter Morottaja, Raj Singh, Ida Toivonen
Comitative coordination in Inari Saami

17.00

Eino Koponen, Jack Rueter
On Skolt Sami largo and allegro alternation

17.30

Marko Jouste
Juoiggus - luohti - livđe - leu´dd - Traditional Saami Music Terminology in Finland

18:00
Reception
Friday, October 20 2017
9:30



Session 4

Minerva Piha
Proto-Scandinavian loanwords in South Saami combined with archaeological material in Central Scandinavia

10:00

Janne Saarikivi
Extinct Saami languages and the Saami language shift to Finnish in the central parts of Finnish Lapland in the light of oral history

10:30–11:00

Coffee break

11:00

Session 5

Ilona Rauhala
The variation and development of the adjective attribute marking system in the Saami languages

11:30

Richard Kowalik
The South Saami consonant system: Plosives, voice, and preaspiration

12:00

Helmut Sandeck
Baakoe-öörnege åarjelsaemien raajesen negasjovnesne

12:30–14:00
Lunch*

14:00



Session 6

Marja-Liisa Olthuis
Anarâškielâ kuhes vokalij já diftongij uánánem kuálussaanij miärusuásist

14:30

Ciprian-Virgil Gerstenberger
Towards Pan-Saami linked lexical data via majority languages' WordNets: a survey

15:00

Lene Antonsen, Marja-Liisa Olthuis, Trond Trosterud
Anárašgiela divvunprográmma

15:30–16:00

Coffee Break

16.00

Session 7

Sierge Rasmus
Gielaid seaguheapmi, interfereansa vai kodaid ovttastupmi?

16.30

John Weinstock
New Era Sápmi Language Shift: Motivation and Mechanisms

17:00

Markus Juutinen
Language contact case Sea and Skolt Sami in Neiden

17:30
Summary and network discussion
19:00
Dinner* (optional)
*Please note that these meals will not be provided.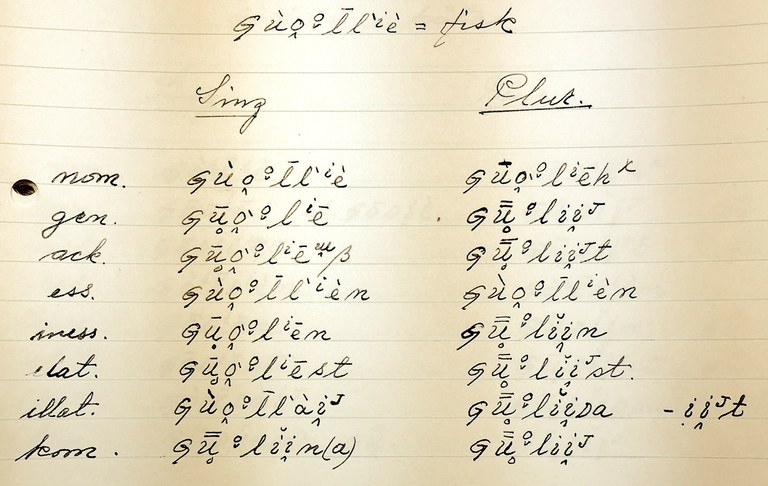 A Pite Saami noun paradigm by Israel Ruong, archived at Institutet för språk och folkminnen, Uppsala