Conference - Refugees in Europe: A Long History of Representation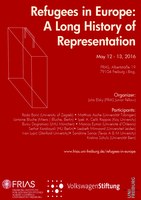 Refugees in Europe: A Long History of Representation
Conference,
May 12-13, 2016
FRIAS Seminar Room
Organiser:

Dr. Julia Elsky
Loyola University Chicago
French Studies
Junior Fellow
When

May 12, 2016 04:00 PM

to


May 13, 2016 07:00 PM

Where

FRIAS, Albertstr. 19, ground floor, large room

Contact Name
Anna Blattner
Contact Phone

0761 203 97362

Attendees

nach Anmeldung / Registration required



Add event to calendar

vCal




iCal
This conference will address one of the most pressing issues in Europe today: mass refugee migrations. Speakers will discuss refugee movements from a variety of angles – historical, sociological, literary, artistic, and beyond – and place contemporary events into a long historical context. The talks will deal with the question of representation. How do we use narrative to explain and imagine refugees, in literature as well as testimony? Do these narratives over-determine how we see contemporary crises? In what ways do narratives by refugees differ? In terms of visual media, how have artists, filmmakers, and museum curators created an imagery of refugees for the public? What are the ethical concerns of depiction? Does visibility transfer to political representation? This conference not only places the current refugee crisis in a wider context, but also demonstrates the importance of interdisciplinary humanities in order to affect a humanitarian worldview.
Organizer: Julia Elsky (FRIAS, Loyola University Chicago): "Carrefour Marseille - Jean Malaquais' Refugee Writing under the Occupation"

Keynote Speaker: Rada Borić (University of Zagreb): "Gendered bodies that matter - deconstructing narratives of victimhood"
rtiipants, with paper titles (in alphabetical order)
Matthias Asche (Universität Tübingen) : "Master Narratives of Flight and Expulsion: Hugenot and Waldensian Legends from the 17th Century until Today"
Lorraine Bluche (Miera | Bluche, Berlin): " Refugee Representations in German History Museums"
Ipek A. Celik Rappas (Koc University): " The Director as Humanitarian Activist: Representing Refugees in European Screens"
Burcu Dogramaci (Ludwig-Maximilians-Universität München): "Refugees' Passports: An Art History of Flight, Representation and Forgery"
Marcos Eymar (Université d'Orléans): "Massive Loneliness: Community and Individual in the Literary Representation of Spanish Republican Refugees in France"
Serhat Karakayali (Humboldt Universität zu Berlin): "Rationalities of Connectedness. Politics of Welcoming in the Refugee Crisis"
Liesbeth Minnaard (Universiteit Leiden): "Facing the Facts in Contemporary Dutch Literature. Representations of Refugees between Innumerability and Singularity"
Ivan Lupić (Stanford University): "The Renaissance and the Refugee"
Sandrine Sanos (Texas A & M University): "Post-Holocaust Representations of Displacement: The Algerian War, Refugees, and Gender in France, 1957-1963"
Kristina Schulz (Universität Bern): "Wiedergutmachung as raison d'etre: Exile Studies in the German Speaking World"