Alumni Freiburg e.V. and FRIAS support Ukrainian Linguist
Thanks to generous donations from Alumni Freiburg and funding from the Freiburg Institute for Advanced Studies (FRIAS), the University of Freiburg was able to offer Fellowships for Ukrainian researchers. One of the beneficiaries is the linguist Oksana Mykhalchuk.
"I still remember everything I was meant to do that day," Oksana Mykhalchuk reflects on February 24, 2022, the start of the Russian invasion of Ukraine. Normally, she is a researcher at the O.O Potebnia Institute for Linguistics at the National Academy of Sciences of Ukraine in Kyiv. But after a few days, she left with her two daughters and fled to her mother in the West of Ukraine, facing an uncertain future. "In Ukraine, it was difficult for me to focus on my studies," she says.
In March 2022, Mykhalchuk discovered the funding programme for Ukrainian researchers offered by the University of Freiburg . Thanks to generous donations from Alumni Freiburg e.V. and funds from the Freiburg Institute for Advanced Studies (FRIAS), the latter was able to offer several short term Fellowships. Mykhalchuk successfully applied for one of them. Her stay was further facilitated by the support from colleagues at the Slavic Seminar, most notably from Prof. Achim Rabus and Prof. Juliane Besters-Dilger.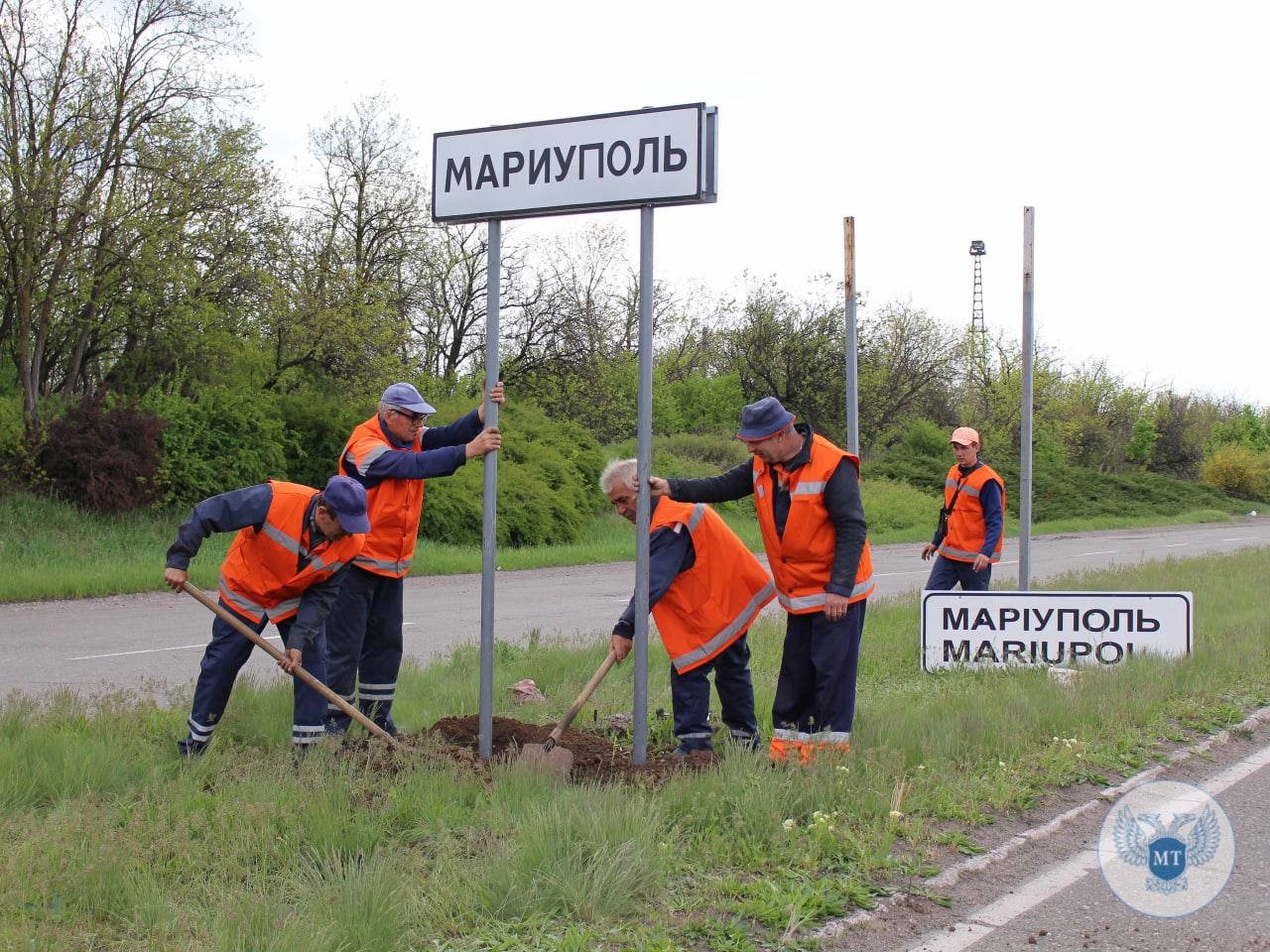 Oksana Mykhalchuk is doing research on the linguistic identity of territories. The picture shows cconstruction workers replacing the Ukrainian and Latin street sign by the Russian one after the Russian occupation of Mariupol. Source: The Moscow Times.
Mykhalchuk arrived in Freiburg in May and settled in immediately. "Some of the streets here remind me of Lviv or Chernivtsi," she says. "What impressed me the most was the university library. I even found some Ukrainian publications there." At FRIAS, Mykhalchuk appreciates the interdisciplinary exchange as well as the friendly attitude of the entire community, which was attentive and always offered support. The Ukraine@War Monitor, a format set up at short notice where interested scholars at the University of Freiburg could exchange views on the Ukrainian war, was particularly inspiring to her.
In her research, Mykhalchuk explores issues of language policy and language protection in the European region. In her current study, she is examining the linguistic identity of territories to gain a deeper understanding of how the geopolitical situation affects the dynamics and stability of linguistic identity. The war in her home country is weighing on her, but her daily work keeps her grounded: "It's difficult, but everyone has to do their job and work on what they had planned, at least in their field of activity. Only this way can you build confidence in yourself that there will be victory".
---
written by Max Bolze, translation by Lilly Kanthak, 13.03.2023

photo: Emily Schlegel