Honorary Professorship for External Senior Fellow John Nerbonne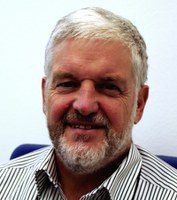 John Nerbonne
University of Freiburg's Senate appointed FRIAS Fellow Prof. John Nerbonne Honorary Professor on 11 December 2013. With this decision, a renowned External Fellow of our institute is now permanently connected to the University of Freiburg.
Nerbonne has been professor of Computational Linguistics and chair of Humanities Computing (with a secondary appointment in computer science) at the University of Groningen since 1993. He has served as director of the Center for Language and Cognition Groningen and was elected president of the international 'Association for Computational Linguistics' in 2002.
Nerbonne wants to use his new position at the University of Freiburg to expand the collaborations with his Freiburg colleagues Peter Auer (German Philology), Bernd Kortmann, Christian Mair (both English Language and Literature) and Stefan Pfänder (Romance Philology) which began during his two earlier fellowship stays at FRIAS. He also wants to participate in the Graduate College programme "Frequency effects in language".
In early 2014 another cooperation project which Nerbonne initiated will start between the Freiburg Hermann-Paul Center for Linguistics and the Centre for Language and Cognition Groningen.
Nerbonne is planning to divide his future teaching activities between Groningen and Freiburg in a six-month rotation and thus will be in Freiburg during winter semesters.
12/2013