Faces of FRIAS: Patricia Faraldo Cabana
Meet the people behind the research projects! In our Faces of FRIAS series we introduce you to current and former Fellows of our institute.
We asked Professor Dr. Patricia Faraldo Cabana, a Fellow of the Marie Skłodowska-Curie FRIAS COFUND Fellowship Programme, to tell us a bit about herself and her field of research: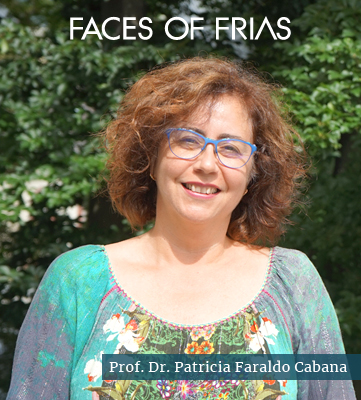 I am originally from …
… A Coruna, a city in the Atlantic coast of Spain.
My academic field of research:
I am a full professor in Criminal Law at Universidade da Coruna, Spain; but I am also adjunct professor at the Queensland University of Technology, Brisbane, Australia.
In my CV it doesn't say that … 
… I love to read John Connolly's latest book with some chocolate at hand.        
You have been a FRIAS Fellow from May to July 2021, working on the research project "Fines and the rehabilitative ideal".
If you had to explain your project to the person in front of you, queuing at the supermarket checkout, how would you describe it?
Fines are the most curious penalties. You cannot go to prison instead of your son, but you can pay his fine. Being impossible to control who really pays the fine, could we say that fines are rehabilitative? Even considering that if you do not pay your fine you will go to prison? Is that not unfair for poor people that do not pay because they simply do not have the means to do it? These are some of the questions I am researching on.
No one thinks that my work involves a lot of …
… searching for statistical data that in some countries are very difficult to find. For example, in Spain nobody seems to know whether offenders are paying their fines or not.
What do you enjoy most about being a Fellow at FRIAS?
It is the perfect environment for research, while at the same time learning from other fellows with total different interests.
What do you like to do in your free time?
I read a lot. I also love films and series. Sport is not for me. I hate to sweat!

If you could choose a famous researcher or scientist (dead or alive) to have dinner with, who would it be? 
Madame Curie. I would ask her if the sacrifices she made for her research were worth it in her eyes.
Tell us, what is your favourite spot in Freiburg, or the Black Forest region?
For dinner, Forellenstüble in Freiamt. To go for a walk, I love to go shopping in the city centre (Oberau, Martinstor, Rathaus).
Thank you very much, Patricia!
Find out more about Prof. Dr. Patricia Faraldo Cabana and her research project at FRIAS.
Photos:
Patricia Faraldo Cabana © FRIAS / Ines Bachor
Marie Marie Skłodowska Curie © public domain, Wikimedia Commons, CC0
Interview by Ines Bachor, Head of Public Relations, FRIAS