Lunch Lectures
The Lunch Lectures are a series of events at FRIAS dedicated to reflection on knowledge, science and technology in the broadest sense, with a different overarching theme each semester.
The Lunch Lectues Series Trust in Sciences and Technologies: Crises and Opportunities will be held bi-weekly during the 2021/2022 winter semester, starting on 11/4/21.
The language of the lectures will generally be English. Following the 30-minute lectures, audience members are invited to participate in an audience discussion. The FRIAS Lectures are open to all interested parties and attendance is free of charge. Selected events will also be livestreamed on the FRIAS YouTube channel.
Video-Podcasts der Lunch Lectures auf der FRIAS-Mediathek
---
FRIAS Lunch Lecture: 
Trust in Sciences and Technologies: Crises and Opportunities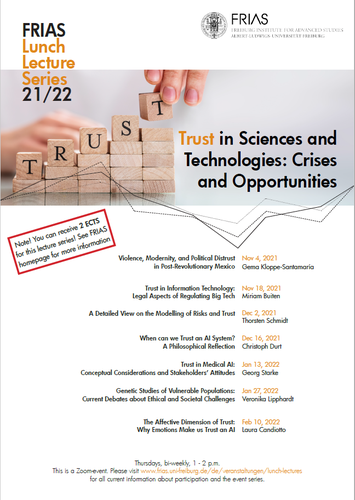 organized by Philipp Kellmeyer
The event takes place online via Zoom.
Please register here for individual sessions or the entire series.

All current information about the event series and participation will be posted at www.frias.uni-freiburg.de/en/events
Trust in Sciences and Technologies: Crises and Opportunities
Sciences are a key factor in liberal democracies to provide a common factual basis for rational discourse and decision-making and technologies enable us to innovate and make societies more resilient against systemic shocks. Yet, the increasing complexity of new and emerging sciences and technologies—such as AI, genome editing and geoengineering—are testing the limits of our ability to assess their inherent risks and weigh these risks against their intended benefits for society. Especially during times of crisis and upheaval, such as the climate crisis and coronavirus pandemic, trust has become one of the most important currencies for maintaining political and societal coherence.
In this lecture series, we will examine trust from a multilevel perspective: from conceptual philosophical aspects, questions of trust in human-technology interactions as well as trust as a basis for maintaining social cohesion in the face of large-scale crises.
By handing in an essay at the end of the lecture series, 2 ECTS credits can be earned:
Length: between 11,500 and 16,500 characters (including spaces).
Format: standard font (e.g. Arial, Times New Roman); 12 pt., 1.5 times line spacing; 6 pt. paragraphing
Topic: From the range of topics of the lecture series (after consultation with me)
Structure/content: introduction, background (approx. 20% of the text) - central problem, hypothesis(es) (approx. 10%), analysis of the problem/hypothesis(es) (approx. 50%), summary, outlook, open questions (approx. 20%)
Citations/sources: please clearly mark sources with reference to literature / other source; e.g. "German companies already use 100% AI technologies in manufacturing (Müller, 2019)" -> then at the end of the text list of references with e.g. Müller, P. AI technologies in German industry. Journal of Just AI. 2019 1(4), p. 12-15.
Evaluation criteria: Adherence to formal requirements (scope, formatting, citation) and spelling / grammar (20%), clarity of problem, argumentation and discussion (60%), style (20%).
Previous FRIAS Lunch Lectures
---
All
Events
There are currently no items in this folder.