Humanities and Social Sciences Colloquium - Marco Caracciolo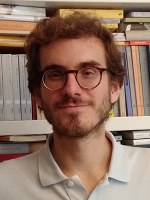 'Climate Change/Adultery': Bridging Levels of Reality Through Narrative.
Dr. Marco Caracciolo
University of Groningen
Comparative Literature
'Climate Change/Adultery': Bridging Levels of Reality Through Narrative.
When
Oct 17, 2016
from

11:15 AM

to

12:45 PM

Where

FRIAS, Albertstr. 19, Seminar Room

Contact Name
Lena Walter
Contact Phone

+49 (0)761 203-97362

Attendees

universitätsöffentlich / open to university members



Add event to calendar

vCal




iCal
In a recent book on the philosophy of climate change, Dale Jamieson writes: "Climate change poses threats that are probabilistic, multiple, indirect, often invisible, and unbounded in space and time. . . . Evolution did not design us to deal with such problems" (2014, 61). Likewise, narrative did not develop to address such problems, because it is a practice geared toward the temporal and spatial scale of human life. Stories are told in ways that reflect our interest in human-scale phenomena, particularly intersubjective interactions and social structures. 
In this talk I'll focus on how certain kinds of narrative—in both literary fiction and science communication—may overcome this bias toward the human scale and embrace the more abstract or intangible realities that are the object of scientific inquiry, including (but not limited to) climate change. I outline three strategies through which stories may "flesh out" these phenomena in emotional and ethical terms. In doing so, I discuss the implications and potential of the dialogue between narrative and scientific knowledge.