Steering Committee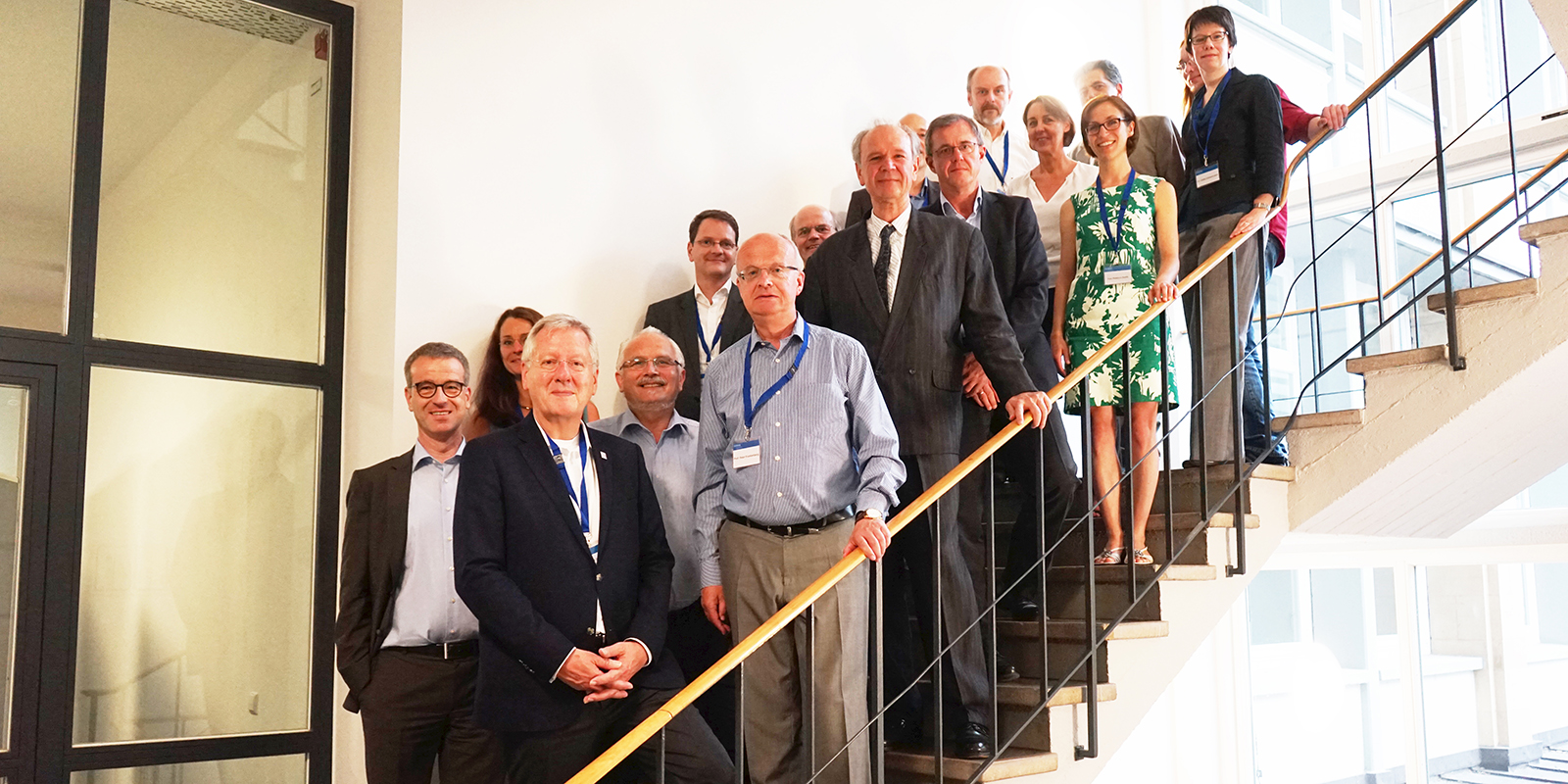 The newly established FRIAS Steering Committee supervises the work of the Institute. It gives recommendations on all matters of fundamental and long-term importance. These recommendations are taken up both by the FRIAS directorate and the rectorate of the university. The Steering Committee consists of five external and nine internal members, among them representatives of the faculties, research centers, students and junior researchers. The FRIAS Steering Committee convenes once a year. It held its inaugural session on July 18-19, 2015. The committee is chaired by Prof. Dr. Peter Frankenberg, former Minister of Science, Research and Art of the State of Baden-Wuerttemberg.
Steering Committee Members:
External members
Dr. Enno Aufderheide, Secretary-General of the Alexander von Humboldt-foundation; Prof. Dr. Andreas Barner, President of the Stifterverband für die Wissenschaft e.V. (Donor's Association for the promotion of science), Chairman of the corporate board of Boehringer Ingelheim GmbH and Chairman of the University Council of the Albert-Ludwigs-Universität Freiburg; Dr. Anke Beck, Executive Director of Walter de Gruyter GmbH; Prof. Dr. Michael Esfeld, Professor for Philosophy of Science, Université de Lausanne; Prof. Dr. Peter Frankenberg, Minister of Science for Baden Württemberg from 2001-2011 and currently Chairman of the Heinrich-Vetter-Foundation; and Head of Section Dr. Simone Schwanitz, Director of the Department for Research, Transfer of Technology, Junior Researchers and EU matters at the Ministry for Science, Research and Art of Baden-Wuerttemberg.
Internal members:
Prof. Dr. Bernd Becker, Professor for Computer Architecture at the Faculty of Engineering; Prof. Dr. Leena Kaarina Bruckner-Tuderman, Professor for Dermatology and Venerology, Medical Director of the University Clinic for Dermatology and Venerology and Vice President of the German Research Foundation (DFG); Prof. Dr. Tim Freytag, Professor for Human Geography and Dean of the Faculty for Environment and Natural Resources; Hannes Hein, political science student and Representative of the Students at the University of Freiburg; Prof. Dr. Ralf von den Hoff, Professor for Classical Archeology and speaker of the SFB  948 "Heroes-Heroization-Heroisms"; Prof. Dr. Barbara Korte, Professor for English Literature; Prof. Ralf Poscher, Professor for Public Law and the Philosophy of Law;  Philipp Mehne, Research Assistant at the Institute for Microsystem Technology (IMTEK), and Dr. Ulrike Zimmermann, Research Assistant at the English Seminar and the SFB  948 "Heroes-Heroisation-Heroisms".