Experimental Natural Sciences and Engineering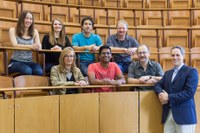 Freiburg-Strasbourg Research Group "Bio-based nano-mechano responsive films: A new step towards soft-mechano-chemistry"
Prof. Pierre Schaaf (Université de Strasbourg); Dr. Stefan Schiller (University of Freiburg)
The development of chemo-mechano-responsive systems, systems that respond chemically to a mechanical stimulus, is an emerging field in chemistry. Most of the systems developed so far are based on affecting internal chemical bonds when molecules are put under a mechanical stress. Nature transforms a mechanical force into a chemical signal by using force induced conformational changes of proteins. The goal of the group in Strasbourg involved in this project is to develop chemo-mechano-responsive systems relying on this simple idea: developing systems which respond chemically to stretching by modifying their conformation. The focus of the group in Freiburg is centered around defined multifunctional molecules & complex renewable and resilient systems. The goal of this project is to develop a system which, by stretching a surface changes the interaction-strength between a surface immobilized receptor and its ligands. For this purpose we will design avidin monomer mutants. The mutations will allow to covalently anchor these proteins onto an elastomeric substrate and to weaken the avidin interaction with biotin upon stretching. This should allow enhancing the modulation of the avidin/biotin binding strength. This project should result in the first system where the ligand/receptor interaction can be modulated by force constituting a universal biointeraction platform for biosensing and tissue engineering.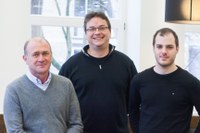 Freiburg-Strasbourg Joint Research Group: "Deep brain stimulation of the ventral midline thalamus to boost memory vividness over time"

Prof. Dr. Jean-Christophe Cassel (Université de Strasbourg); Prof. Dr. Ulrich Hofmann (University of Freiburg); Dr. Richard Pinnell (University of Freiburg)

The mammalian thalamus is involved in multiple functional neural circuits including consciousness, sleep and memory formation. Although usually linked to hippocampal damage, severe amnesia may also result from thalamic stroke or neurodegeneration.
Memory formation requires interaction between the hippocampus and medial prefrontal cortex (mPFC). However, there are no direct circuits returning to the hippocampus from the mPFC. Two nuclei of the ventral midline thalamus, the Nucleus rhombus and Nucleus reuniens, have direct reciprocal connections with both structures.
Deep Brain Stimulation (DBS) of the thalamus, subthalamic nucleus and/or globus pallidus is an established treatment in Parkinson's disease, dystonia and essential tremor. The extension of DBS to other neurological diseases, including depression, is currently under investigation with promising results.
This project will focus on the interplay between the ventral midline nuclei rhombus and reuniens and memory functions, which are dependent on connections to the hippocampus and mPFC. Our hypothesis is that the precision or/and vividness over time of recent memory traces will be differentially affected by DBS to the Nucleus rhombus/reuniens. We will also collect and analyze the cross-frequency coupling of brain wave oscillations. Knowledge gained from this study may provide a platform for recovery of function approaches in humans suffering amnesia as a consequence of e.g., stroke or neurodegenerative diseases.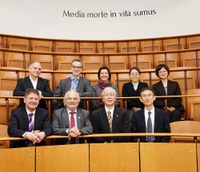 Freiburg-Nagoya Project Group "Multicomponent Supramolecular Catalysts for Sustainable Chemical Synthesis"
Prof. Bernhard Breit (Universität Freiburg); Prof. Takashi Ooi (Nagoya University); Prof. Kenichiro Itami (Nagoya University)
Chemistry in general and Organic Synthesis in particular is an enabling science, which is in many cases the basis for innovation and development in the chemical and pharmaceutical industry and beyond. The development of an environmentally benign, energy saving, sustainable and cost efficient new quality of organic synthesis is more acute than ever. Catalysis in organic synthesis can be an ideal solution to these problems. Hence, the development of ever more efficient and selective catalysts and catalytic reactions for important synthetic transformations in organic synthesis is at the forefront of molecular sciences and at the heart of this joint research project. Specifically new multicomponent supramolecular catalyst systems shall be developed which tackle so far unsolved reactivity and selectivitiy problems in organic synthesis in order to provide a more sustainable chemical synthesis. Based on this common research project the research groups of Profs. Ooi and Itami at Nagoya University and the group of Prof. Breit at Freiburg University will establish an exchange program for Master and PhD students, which are involved in this project. Additionally, an international symposium shall be organized that will bring together world-leading scientists in the field of multicomponent supramolecular catalyst systems. This collaboration will strengthen the ties between Nagoya University and the Albert-Ludwigs-University Freiburg in particular between the departments of chemistry. Furthermore, it could become the basis for further joint academic projects such as e.g. the establishment of an international research training group cofunded by DFG and JSPS in the future.
---
Prof. Dr. Yury Belyi (ESF)
Gamaleya Research Center for Epidemiology and Microbiology
Mikrobiologie
Okt - Nov 2016                               

Molecular mechanisms of alteration in eukaryotic membrane trafficking induced by Legionella pneumophila, vacuolar pathogen of phagocytic cells

Legionella pneumophila is a fastidious Gram-negative bacterium able to multiply inside eukaryotic cells and causing severe pneumonia in humans. To succeed in intracellular pathogenesis, bacteria translocate numerous toxic substances, called "effectors", into target cells. In many known cases, these Legionella products participate in the change of the phagosome into a "replicative vacuole" by targeting small GTP-binding proteins, which are regulators of vesicular and membrane trafficking including autophagy processes. However, obviously, many aspects of the interaction of Legionella with host membranes still remain unknown. In our unpublished investigations we identified an open reading frame ("lpg1489" in L. pneumophila genome database) whose product was severely toxic when produced in yeast Saccharomyces cerevisiae and induced characteristic vacuolar phenotype when delivered into mammalian cells. Obtained data suggested that this novel protein is able to interact with host membranes by an unknown mechanism and induces definite alterations in eukaryotic vacuole biogenesis. The current proposal is aimed at study of Lpg1489 by using different cell biological, proteomic, biochemical and molecular biological approaches. The obtained results will help to disclose type of biochemical activity of Lpg1489, identify the target(s) and consequences of its action for the host cell.

Dr. Ghada Hamdy Ibrahim (JF)
Electronics Research Institute, Giza, Egypt
Electronics and Engineering
Sep 2016 - Aug 2017

Development of RFID circuit building blocks using an organic TFT transistor technology

Organic Thin Film Transistors (OTFT) has received considerable interest in the last decade due to the opportunities to fill current application gaps. OTFTs are aimed at applications requiring large-area coverage, structural flexibility, low temperature processing, and low cost. One of the most envisioned applications is the radio frequency identification (RFID) tag. Some of the required functional specifications in the targeted OTFT technology to suit the implementation of RFID circuit blocks are the operating speed, large current drive, low leakage and low threshold voltage.
Several RFID tags using OTFT devices were reported, either as complete tags, or some of their main building blocks, [4]. However, targeted technologies suffered either large TFT length, high threshold voltage, high supply voltage or low fT , or combine several such performance issues.
The proposed OTFT technology in offers better performance measures where threshold voltages as low as 1 V and supply voltages as low as 3.3 V and reduced channel lengths to 0.8 µm, leveraging device's fT. This enables the implementation of RFID tags with better sensitivity and lower power consumption.    
This project aims at designing basic building blocks of an RFID tag, including rectifier circuits and receiver part.




JunProf. Christian Leukel (JF)
Albert-Ludwigs-Universität Freiburg
Sportwissenschaften
Arpil 2017 - Jan 2018     


Investigating the corticospinal system in humans

One of the major scientific questions today concerns the functioning of the human brain. A significant problem that slows down scientific progress is the availability of appropriate methods in humans that can provide detailed mechanistic answers similar to what is possible in animal and in in-vitro experiments. In motor neuroscience, a neurophysiological technique called H-reflex conditioning with transcranial magnetic stimulation (TMS) exists, with which the human corticospinal system can be investigated. With this method, synaptic activity and plasticity have been probed for a specific subset of corticospinal connections, namely the fastest (large diameter) monosynaptic corticospinal (pyramidal) projections, which have been proposed to be only present in old world primates and humans. Recent advances with H-reflex conditioning suggest that not only the fastest but also slower conducting corticospinal (pyramidal) projections originating in the primary motor cortex (M1) may be probed. The present project aims to assess to which extent this is possible. Further, in the project it will be tested to which extent other projections originating in premotor areas can be tested by H-reflex conditioning. Finally, existing neurophysiological methods to study cortico-cortical and cortico-spinal projections (short-interval intracortical inhibition - SICI; intracortical facilitation - ICF; premotor-motor conditioning with TMS) will be combined with the H-reflex conditioning technique. The combination with existing methods and the possibility to study also slower pyramidal projections from M1 may lead to new neurophysiological tools with which the corticospinal system in humans can be better investigated in the future.

Dr. Ian Riddlestone (JF)
University of Bath
Chemie
Sep 2016 - Aug 2017

Preparation of Stabilised and Free Silylium and Silicocenium Ions Featuring Known and Novel Weakly Coordinating Anions; Reagents for the Coordination and Activation of Small Molecules

Weakly coordinating anions (WCAs) have applications as electrolytes, components in ionic liquids, lithium ion batteries and in catalysis. They also facilitate the formation of reactive cations and weakly bound complexes in the condensed phase. Although a number of WCAs are prevalent in the literature, a number of common underlying deficiencies affect their usage. Such deficiencies include: (i) stability to highly Lewis acidic species, (ii) weak coordinative strength, (iii) ease of preparation and (iv) high tendency towards crystallographic disorder. This project seeks to build and improve upon the perfluoro-tert-butoxy aluminate class of WCAs and apply these anions in the synthesis of highly reactive silylium and silicocenium cations.

Dr. Stefanie Rätz (JF)
European Space Agency (ESA)
Astronomie
Okt 2016 - Sep 2017

Variability and transiting extrasolar planets in young open clusters

So far only little is known about exoplanets during the first few millions of years  of their lives, and the goal is to fill the observational gap. Any detection of an exoplanet in  these young clusters would provide important constraints on planet formation and migration  time-scales and their relation to protoplanetary disc lifetimes.
Young open clusters provide an ideal environment for the search for young extrasolar planets,  since they feature a relatively large number of stars of the same known age and metallicity at  the same distance. In cooperation with the YETI (Neuhäuser et al. 2011) several 0.2 to 2.6 m telescopes around the world will be used to study one carefully selected young open clusters  (25 Ori, 7-10 Myr, 323 pc, Briceno  et al. 2007) mainly to detect young transiting planets and to  analyze variability phenomena on time-scales from minutes to years.
The light curves of young stars are dominated by stellar variability. In order to model any found transit event for a derivation of the planetary candidate properties, the effects of the stellar variability in the light curves need to minimized. Therefore detailed studies of the variability will be carried out to characterize the young stars.
The project aims to provide a better understanding of the whole system especially their multiplicity, physical variability and planetary companions.