Research Area "Chemical Epigenetics"
FRIAS Research Focus "Chemical Epigenetics"
Prof. Dr. Manfred Jung (University of Freiburg); Prof. Dr. Oliver Einsle (University of Freiburg); Prof. Dr. Stefan Günther (University of Freiburg); Prof. Dr. Bernhard Breit (University of Freiburg); Prof. Dr. A. Ganesan (University of East Anglia); Prof. Dr. Udo Oppermann (University of Oxford)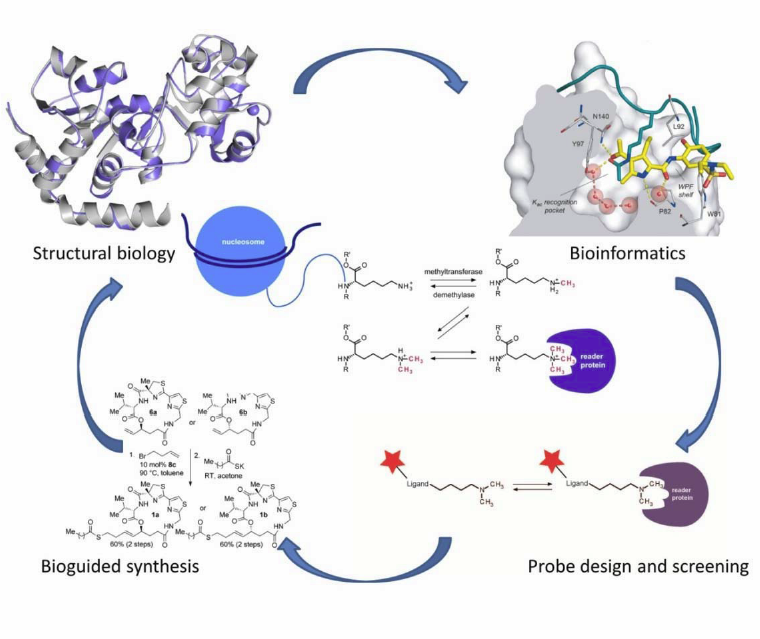 Epigenetics is one of the major topics of modern biomedical research and is already a major focus in the Freiburg research landscape with international visibility. The Research Focus deals with epigenetic mechanisms on a
molecular level using our combined expertise in synthetic organic and medicinal chemistry, structural biochemistry and bioinformatics to address this topic in a highly synergistic manner. The main scientific focus of our project will be acetyl and methyl lysine binding proteins, so called histone code readers. Structural analyses provide the basis for identification and optimization of new chemical ligands for these proteins in a rational, bioguided fashion. This will lead to new chemical tools that will allow dissecting cellular pathways involving these proteins as well as the analysis of their suitability as targets in drug discovery. The structural aim of this project is the preparation of a proposal for an International Research Training Group. Thus, both scientifically and structurally we will further foster the status of Freiburg as major site for epigenetic research.
---
Prof. Dr. A. Ganesan (ESF)
University of East Anglia
Chemistry
Sep 2016 - Dec 2017                               

Targeting Histone-Modifying Enzymes for Epigenetic Drug Discovery

Epigenetics is the study of how DNA and histone protein modification affect gene transcription in eukaryotes. The DNA and protein modifications are carried out by writer enzymes. For each modification, an eraser enzyme returns the molecule to its native state.  In this project, we will target two key histone-modifying eraser enzymes, histone deacetylases (HDACs) and lysine-specific demethylase I (LSD1). HDAC inhibitors are a well validated epigenetic target for drug discovery with five approvals for cancer chemotherapy. However, there are issues with selectivity as the drugs inhibit several or all eleven of the human HDACs. Our approach is to design isoform-selective HDAC inhibitors and profile them biologically in order to understand the specificity that will be therapeutically valuable. In preliminary results, we have identified HDAC6 selective inhibitors. We will prepare two libraries of compounds based around two scaffolds and these will be evaluated in Freiburg. Concurrently, we will work on the second target, LSD1. We have a series of irreversible LSD1 inhibitors with submicromolar activity in acute myeloid leukaemia cell lines. We will prepare additional compounds in the series to optimize their pharmacodynamic and pharmacokinetic properties. In addition, we will identify scaffolds for reversible LSD1 inhibition through in silico screening. Promising candidates will be synthesized and tested in enzyme and cell-based assays for LSD1 inhibitory activity.

Prof. Dr. Udo Oppermann (ESF)
University of Oxford
Musculoskeletal Sciences
Oct 2016; April - Aug 2017

Understanding the role of histone demethylase LSD1 in mesenchymal stem cell biology and musculosketal ageing

Epigenetic mechanisms control gene transcription by integrating modifications on DNA and chromatin. Current drug development efforts aim to utilise the potential that epigenetics offer to address unmet needs in various areas of human disease including inflammatory disorders such as rheumatoid arthritis.
We have previously identified epigenetic mechanisms that control the complex stem cell and inflammatory environment that leads to destruction of bone tissue in arthritis and other musculoskeletal conditions. One of the identified critical factors that regulates osteoblast development from mesenchymal stem cells is the histone demethylase LSD1; this field has been subject of intensive research of Professor R Schuele in Freiburg. LSD1 knockdown in human mesenchymal stem cells resulted in significant increases in osteoblast properties when stem cells are directed towards this lineage. This has potential therapeutic implications in several areas of medicine including rheumatology, ageing and regenerative medicine.

We now wish to further evaluate LSD1 as possible therapeutic intervention point, by performing initial proof of concept studies in model systems which are available at the host laboratory. In particular, we will investigate the effect of small molecule inhibitors how LSD1 regulates chromatin function and osteoblast differentiation. It is anticipated that results from this project will increase our understanding of possible bone anabolic effects of LSD1 inhibitors.