FRIAS Express May 2018
Dear FRIAS Community,
Many new exciting things have happened since the last issue of the FRIAS Express. We said farewell to Managing Director Carsten Dose and welcomed two new members in the FRIAS team: Alison Sauer, who will be the new anchor of the events team, and Barbara Nüssle, who will take over from Michael Graf the position of Head of Administration for finances and personnel.
From May 13-18, Executive Director Bernd Kortmann and Rector's Fellow Prof. Dr. Andreas Mehler met with colleagues in Dakar, Senegal, and at the University of Ghana, Accra, to drive forward the building of the Maria Sibylla Merian Institute for Advanced Studies in Africa (MIASA) and finalize the plans for the inaugural conference on September 27 and 28. In the course of these visits they also had meetings with the German ambassadors in both countries, and with representatives of DAAD and all major political foundations.
Looking ahead, June and July promise to be full of interesting workshops and conferences organized by our Fellows. Also there will be a Freiburger Horizonte talk on June 7, 2018. And, of course, we would like to repeat our warm invitation to join us for our 10-year anniversary celebration on June 29, 2018 at 2-5 p.m. in the Anatomy Lecture Hall, Albertstr. 17. If you are not able to participate in the festivities but would like to leave greetings and wishes on this occasion, you are invited to use our digital guest book. Just enter frias10 to leave your comment, video greeting, or a photo of your best FRIAS memory.
Last but not least, we are in the process of finalizing fellow agreements, arranging travel and housing to prepare for the fellow generation 2018/19 to start their fellowships in September. Once more, we are very pleased with the wide range of topics, perspectives and expertise plus, no doubt, fascinating personalities that will be present at FRIAS in the upcoming term.
TOP NEWS
» Farewell celebration for Carsten Dose on April 11, 2018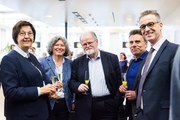 In the previous issue of the FRIAS Express, we already announced that Carsten Dose, FRIAS Managing Director since 2008, would leave the institute after ten years. During the farewell celebration, FRIAS director Bernd Kortmann thanked Carsten Dose for his devoted effort and contributions in bringing the idea of an Institute for Advanced Studies forward: "It takes special people to build such a special place, and among these Carsten has always assumed a very special position. Thank you for everything, and please accept from all of us the very, very best wishes for your future in Stuttgart!" For the Words of Farewell by Bernd Kortmann, please click here
» My first day at FRIAS on April 1, 2008
"I placed the key in the lock, opened the room, switched on my laptop and got started", said Prof. Dr. Sabine Dabringhaus about her first working day at FRIAS on April 1, 2008. When FRIAS opened its doors ten years ago she was the first to move into her office. For the anniversary, the expert on East Asian history explained why the proximity to various disciplines furthered her own research and how she experienced the Institute's founding days. Read more about Sabine Dabringhaus' experience in the University's online-magazine Connect & Create
» Lunch Lecture series on the topic of "Ignorance – what we don't know"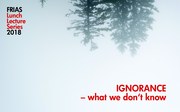 The new round of FRIAS Lunch Lectures has started with an introductory lecture given by Matthias Groß, co-editor of the "Routledge International Handbook of Ignorance Studies". New this year: As of summer term 2018, students can receive 2 credits (or in more technical terms: they can receive 2 ECTS points in their "Ergänzungsbereich / Individuelle Studiengestaltung"). This second round of lectures on ignorance will cover different disciplines from the ones back in the winter term of 2016/17, but will still put challenging questions like the following at its centre: What is it that we don't know, and perhaps never will know? What is it we don't know yet, or seemingly don't want to know in the first place, or perhaps even should not want to know? The lectures take place on Thursdays between 12:15 and 13:00 in KG I (Kollegiengebäude I), lecture hall 1009. More information
» Marlene Bartos receives ERC Advanced Grant
Congratulations to Prof. Dr. Marlene Bartos, member of the FRIAS directorate from 2015 until 2017 and professor at the Institute of Physiology I at the University of Freiburg, who will receive a 2.5 million Euro Advanced Grant from the European Research Council (ERC). In her project, she will examine the functional role of inhibitory nerve cells in the formation of memory traces and in the control of cognitive behavior. For more information on Marlene Bartos and her work, see the article "The strength of the minority" in the University magazine uni'leben or read the press release.
LOOKING AHEAD
» Book Launch Hermann Herlinghaus – "The Pharmakon - Concept Figure, Image of Transgression, Poetic Practice"
We kindly invite you to join us for the book launch of Prof. Hermann Herlinghaus (editor) and Prof. Nancy Campbell (Co-Author), who will present the book "The Pharmakon" as part of the next Dinner speech on Wednesday, June 6, 2018, at 5:30 pm. Correspondent will be Prof. Anne Harrington (Harvard University). More information
» Freiburger Horizonte on June 7, 2018 – "The human being as an architect of his/her own - mechanisms and possibilities of cognitive self-control"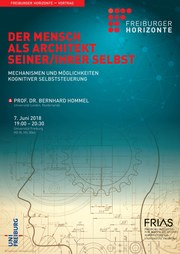 Nutritionists, health and life counselors commonly give the impression that a person who can control his or her feelings and actions well is more successful professionally, socially, overall happier, and even healthier. On Thursday, June 7, Psychologist Prof. Dr. med. Bernhard Hommel from the University of Leiden will address the question of whether and how humans can influence their actions, such as through meditation, nutrition or brain stimulation. Traditionally, psychology distinguishes between the deliberate control of actions and automated, habitual action – a distinction that is not tenable according to recent research. Rather, differences within and between individuals' action control are due to the fact that it can vary between focusing exclusively on one's own goals and taking strong account of situational circumstances. The lecture will be held in German. More information
» FRIAS Junior Researcher Conference on June 14-16, 2018 – "Grounding the Space of Reasons"
The conference "Grounding the Space of Reasons. The Question of First Principles in German Idealism and Today" revives the question of an ultimate ground and first principle of reason as put forward in early Classical German philosophy. This question, which emerged as a key desideratum for a system of knowledge around 1800, still presents a challenge to contemporary appropriations of idealism: How can the space of reasons itself be justified? Does autonomous reason need such grounding at all? More information
» FRIAS Alumni Club - The first annual members' meeting on June 29, 2018
We kindly invite all FRIAS alumni and alumnae to join the first annuals members' meeting of the Alumni club that takes place on Friday, June 29, 2018, at 11:00 am in the FRIAS seminar room. If you are interested in joining the event, please contact Britta Küst at alumniclub@frias.freiburg.de
PEOPLE AT FRIAS
In each issue, FRIAS Express introduces people behind the scenes who crucially contribute to the continuous development of the Institute. This month, we would like to introduce three new members of the FRIAS administration who have joined us in the past months.
Barbara Nüssle, Head of Administration for finances and personnel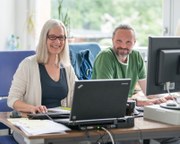 After working in the financial management of an international company for eight years, Barbara Nüssle started her career at the University of Freiburg in 2004. For more than a decade, she   worked in the "Gründerbüro", the founder's office at the University. With her extensive and valuable experience in financial administration and controlling, we are glad to have her succeed Michael Graf in this position as of May 2018. Michael, who has been a member of the FRIAS team since 2010, will now move on to a position at the Cochrane Foundation Germany (Cochrane Deutschland Stiftung), an organizational unit of the University Medical Center Freiburg.
Alison Sauer, Events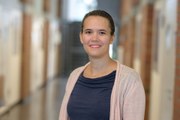 Alison Sauer is a new member of the events team. Together with Kyra Vogt she is responsible for organizing all events, conferences, colloquia, and workshops that shape the lively atmosphere here at FRIAS. Alison brings to the table extensive experience in international project management in the private and social sector as well as a background in university administration. With a Master's degree in History, Theology, and Near Eastern Archaeology, and a great passion for bringing people together, we all think she is just the right fit for the interdisciplinary and communicative work here at FRIAS.
Verena Schröter, Consultance Humanities and Social Sciences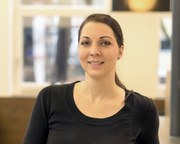 It was almost six months ago that Verena Schröter took up her position as scientific consultant at FRIAS. A philosopher and philologist by training, Verena supports all matters regarding the Humanities and Social Sciences, and assists the Directors for Humanities and Social Sciences in organizing the relevant colloquia and lectures. Moreover, her knack for English and German writing makes her a welcome contributor to the FRIAS News and FRIAS Express. Prior to her position at FRIAS, Verena has gained broad experience in university teaching and research, and just recently finished her PhD thesis in English Sociolinguistics.
We are very happy to have all three of them on board! At the same time we wish all departing members of the FRIAS team only the best in their future endeavors.
DIRECTOR'S CORNER
Even a mildly attentive reader of this issue of the FRIAS Express will have noticed that there was much talk of members of staff leaving and new members joining. Indeed, we have seen a lot of fluctuation in the FRIAS team over the past months. And more is (or rather: are) to come: as of July/August, we will be able to welcome two more new members of staff, both employed in the context of MIASA (our Merian Institute for Advanced Studies in Africa). In ALL cases, I am proud to say, we indulged in a luxury situation in the selection process since we received top applications for every single position we had advertised. Given the booming German economy and a highly competitive HEI job market, this speaks for the attractiveness of FRIAS as an employer! Moreover, the FRIAS directorate is eagerly waiting for the signal from our university's rectorate to start the search for a successor of Carsten Dose. All this fluctuation means that communication and certain organizational processes may not always run as smoothly in the course of the next few months as it is FRIAS standard. From September onwards, I am convinced, once the major steps in the necessary team building process have been mastered and each new member has found its place in it, things will look different again, and FRIAS will no doubt be up to old standards – well, given the exceptional quality of our new recruitments, maybe even surpass the standards of the past! In the meantime, I am asking for a little understanding and patience in your interactions with FRIAS.