FRIAS Express February 2018
Dear FRIAS Community,
Save the Date! It was almost 10 years ago now, on 1st April 2008, that FRIAS opened its doors for the first generation of Junior and Senior Fellows. What followed was a decade full of excitement with plenty of inspiring encounters, discussions, events and, above all, exceedingly fascinating research projects from all disciplines. On June 29th, 2018, FRIAS invites you to celebrate the 10-year anniversary of the institute. We promise a colourful mix of retrospect and prospect, including a closer look at the current and future research topics shaping the institute. The final programme will be issued in a few weeks' time.
In 2008, FRIAS welcomed the first generation of fellows and 2018 already promises to be a year just as exciting and eventful. 
TOP NEWS
» Forming New Partnerships – FRIAS News 15 published

The 15th issue of the FRIAS NEWS with the theme "Forming New Partnerships" has just been published. This issue covers a range of topics, from the work of the current interdisciplinary research focus "Synchronization in Embodied Interaction" and the connection between beauty and interest in science, to the synthesis of artificial muscles and the balance between security and privacy in legislation. In addition to recent news from the institute, you can learn more about the process of building a new Institute for Advanced Studies at the University of Ghana, Accra.
You can download FRIAS NEWS 15 on the FRIAS website. To order your free copy please contact us at presse@frias.uni-freiburg.de
» Team of researchers led by FRIAS fellow Wolfgang Hess publishes article in Nature Microbiology
Together with a research team from the University of Freiburg, Wolfgang Hess, member of the Freiburg-Strasbourg Joint Research Group "MapRNA: Mapping RNA-RNA pairings in vivo in bacteria and their importance in fast acclimation processes", and Annegret Wilde, FRIAS Director for the Natural and Life Sciences, Medicine, Engineering, have published an article in Nature Microbiology. The team, led by Juliane Behler and FRIAS fellow Wolfgang Hess, have identified an enzyme, a special pair of RNA scissors, which is involved in CRISPR/Cas systems and the correct regulation of gene expression – in other words, in reading genes and translating their information into proteins.
Juliane Behler, Kundan Sharma, Viktoria Reimann, Annegret Wilde, Henning Urlaub, and Wolfgang R. Hess (2018): The host-encoded RNase E endonuclease as the crRNA maturation enzyme in a CRISPR–Cas subtype III-Bv system. Nature Microbiology. doi: 10. 1038/s41564-017-0103-5
More information is available in the press release  
LOOKING AHEAD
» Call for Applications for FRIAS research foci 2019/20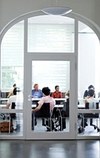 The call for FRIAS research foci 2019/20 is still open. Deadline for application is April 15th, 2018. We kindly encourage the FRIAS community to inform colleagues and researchers at the University about the opportunity the programme offers: working jointly and intensively on a project for one year. The programme is open to all scientists from all disciplines at the University. It allows the researchers to invite international guest researchers, and to study a common topic in a group of eight to twelve people at the same time as pursuing their own research projects. The programme can be shaped and used in a variety of ways.
More information about the programme and the call are available here
» Call for Applications for FRIAS project groups 2018/19
FRIAS also offers funding for up to three project groups for the academic year 2018/19. Deadline for application is April 15th, 2018. This format offers support for a group of researchers at an early stage of cooperation. It is designed for teams of three to six academics, usually including a least two full-time professors at the University of Freiburg.
More information about the programme and the call are available here
» Upcoming event: International Symposium on Medical Epigenetics - "From basic mechanisms to clinical applications"
The Collaborative Research Centre 992 "Medical Epigenetics" invites to its 2nd Symposium on Medical Epigenetics which will take place in Freiburg from March 12th to March 14th, 2018. The event is co-organized by Prof. Manfred Jung, member of the research focus "Chemical Epigenetics" 2016/17 with the support of FRIAS.
More information here http://www.sfb992.uni-freiburg.de/symposium
» Association of Alumni and Friends of the Freiburg Institute for Advanced Studies
After 10 years of exciting and stimulating endeavours at FRIAS, we now followed the good example of other Institutes for Advanced Studies and founded the Association of Alumni and Friends of the Freiburg Institute for Advanced Studies – Alumni Club (Verein der Alumni und Freunde des Freiburg Institute for Advanced Studies e.V.).
The 10-year anniversary is a great occasion to become a member and keep in touch with your former co-fellows. The Alumni Club is chaired by Junior Fellow Eva von Contzen, principal investigator of the ERC Starting Grant junior research group "Lists in Literature and Culture", Helen Pert, as a member of the FRIAS administration responsible for the fellow support right from 2008 onwards a FRIAS All-Star until her retirement in December 2016, and Hermann Grabert, professor emeritus of theoretical physics at the University of Freiburg, who was FRIAS director from 2007 until 2015.
Annual members' meetings will be organized during which the members' assembly will determine the exact use made of the association's funds. The possibilities are manifold: funding scientific publications and presentations that reach out to the general academic community and the public, giving extra funding to fellows and guest researchers in unforeseen circumstances (like e.g. Scholars at Risk), and generally supporting the networks that have developed from fellowship stays here at FRIAS.
If you are interested in joining the Alumni Club and thereby helping to further support FRIAS, please contact Britta Küst at alumniclub@frias.uni-freiburg.de
PEOPLE AT FRIAS
In each issue, FRIAS Express introduces the people working behind the scenes who make invaluable contributions to the continued development of the Institute, either as a member of its Steering Committee (handles all questions of governance) or its Scientific Advisory Board (responsible for all major selection decisions concerning fellowships, research foci, and project groups).
This month: Prof. Dr. Jürgen Osterhammel, member of the FRIAS Scientific Advisory Board (SAB)

Jürgen Osterhammel studied history, political science, German language and literature, and philosophy at the University of Marburg. In 1978, he completed his postgraduate studies at the Department of International History at the London School of Economics and Political Science. He specialized in modern history, receiving his doctorate from the University of Kassel in 1980. In 1982 he returned to London, working as a research assistant at the German Historical Institute under the direction of Wolfgang J. Mommsen. In 1990 he received his habilitation from the University of Freiburg. Since 1999 Osterhammel has taught modern and contemporary history at the University of Konstanz. He is a highly decorated and much honoured scholar of global history and history of ideas, and a successful author who manages to maintain the balance between the academic discourse and a writing style that is appealing to the general public. Osterhammel has been awarded many prestigious prices including the DFG's Gottfried Wilhelm Leibniz Prize in 2010 and the Toynbee Prize in 2017. Also in 2017, Osterhammel was granted membership in the renowned German Orden Pour le Mérite für Wissenschaften und Künste. The Orden awards men and women who have gained a distinguished name through the widespread recognition of their achievements in science and the arts.
We are very grateful to Prof. Osterhammel for bringing all his expertise to the SAB's table, and are looking forward to welcoming the SAB at FRIAS in early March.
DIRECTOR'S CORNER

End of February essentially means halftime concerning the academic year and thus halftime, too, for most of our Junior and Senior Fellows. It's the time when all of us, not just the fellows, the entire FRIAS directorate and administration, too, review and critically take stock of what we have experienced and achieved, individually and collectively, during the past 5 months, and make plans how to spend the next 5-6 months most profitably. Speaking for FRIAS, the balance of the first half of the academic year 2017/18 is absolutely positive (just witness our 1st issue of the 2018 FRIAS News), my personal highlights being our successful bid for a MERIAN Institute for Advanced Studies in Ghana, the visit of FRIAS by our state's Minister for Research, and our Lunch Lecture on "Quantitative vs. qualitative methods across sciences" (take this as a warm invitation to watch, and ideally recommend to others, the podcasts in our media library). And it's been real fun within how short a time span we have now been able to put together a fantastic programme for our (as some of you will notice, second) Lunch Lecture series on "Ignorance – what we don't know" next term! So many fellows who volunteered or immediately agreed once I approached them! This is a true sign of the sense of community and FRIAS spirit which has grown in our current fellow generation over the past months – and it is the best possible reward and source of inspiration for all of us at FRIAS involved in preparing the Institute's activities in spring and summer!