FRIAS Junior Researcher Conference - New Philosophical Perspectives on Surveillance and Control: Beyond the Privacy versus Security Debate
Issues of surveillance and control have been discussed since the threat of terrorist attacks and the NSA scandal shook our basic sense of security. Surveillance is a key instrument of administrative power. It allows states, organisations and private companies to gather information and exercise social control, resulting the privacy vs. security dilemma. On the one hand, techniques of surveillance and control allow for more effective risk management. On the other hand, they threaten the very fabric of social and democratic life.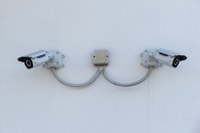 The FRIAS Junior Researcher Conference on November 5 and 6, 2015, aims to go beyond the privacy versus security debate. Elisa Orrù (Universität Freiburg), Sebastian Volkmann (Universität Freiburg) and Maria Grazia Porcedda (European University Institute, Florence) have brought together leading experts and young researchers in order to discuss the implications of practices of surveillance and control for contemporary societies. Among the speakers are Constanze Kurz, spokesperson of the Chaos Computer Club, Jörg Klingbeil, Data Protection Commissioner of the State of Baden Württemberg, Ralf Poscher, FRIAS-Fellow and Professor of Philosophy of Law, Martin Scheinin, former UN Special Rapporteur on Human Rights and Counter-Terrorism, and others.
The conference is divided into three different panels led by the scientific coordinators Elisa Orrù and Sebastian Volkmann from the Universität Freiburg and Maria Grazia Procedda from the European University Institute. The first panel focusses on risk management paradigms in policies of surveillance and control and the shift from repressive to preventive security measures. The second panel will analyse security practices and debates beyond the privacy perspective and their implications for society, law and justice. The third panel deals with the theoretical concept of privacy and its manifold dimensions.
The conference aims to encourage lively debate and collaboration among experts and young professionals. Further information on the programme.
With the Junior Researcher Conferences, FRIAS supports junior academics at the University of Freiburg who apply with a concept for a conference or workshop. FRIAS offers organisational support and funding of up to 8,000 Euro. Further information on the Junior Researcher Conferences.
10/2015