Memorable Moment: Federal President Frank-Walter Steinmeier inaugurates MICAS Africa at the University of Ghana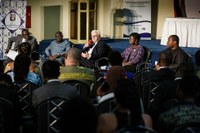 © Bundesregierung / Jesco Denzel
In October 2017, the German Federal Ministry for Education and Research (BMBF) decided to fund a proposal to build a Maria Sibylla Merian International Centre for Advanced Studies in the Humanities and Social Sciences at the University of Ghana in Accra, with the University of Freiburg being the lead partner of the successful German consortium.
On Tuesday, Federal President Frank-Walter Steinmeier launched the MICAS Africa project during his state visit to Ghana. Steinmeier was accompanied by Andreas Mehler, director of the Arnold-Bergstraesser Institute in Freiburg and co-initiator of the project, and met with representatives and students of the University of Ghana.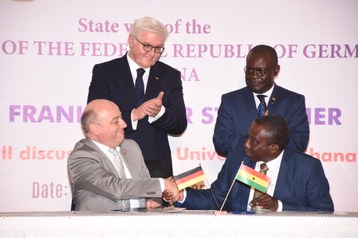 Andreas Mehler and Francis Dodoo, Pro-Vice Chancellor for Research, Innovation and Development at the University of Ghana, signed the collaboration agreement in the presence of President Frank-Walter Steinmeier and Ebenezer Oduro Owusu, Vice Chancellor at the University.
"In many areas, Ghana is a strategically important partner for Germany", said Federal President Frank-Walter Steinmeier. "The new Institute for Advanced Studies will be an additional milestone in this cooperation, a lighthouse project for cutting-edge research in the humanities and social sciences. To explore and discuss governance issues is of great importance for politics and society."
("Ghana ist für Deutschland ein strategisch wichtiger Partner in vielen Bereichen.", sagte Bundespräsident Frank-Walter Steinmeier. "Das entstehende Institute for Advanced Studies wird ein weiterer Meilenstein dieser Kooperation sein, es soll ein Leuchtturm in der geistes- und sozialwissenschaftlichen Spitzenforschung werden. Die Erforschung und Diskussion von Governance-Fragen ist von großer Bedeutung auch für Politik und Gesellschaft".)
The inauguration ceremony was followed by an open discussion forum with around 200 students from the University of Ghana. Students entered into a lively debate with the president, touching on issues like democratisation, migration and the role of Higher Education for sustainable development. The project will start in March 2018, academic activities will start in late 2018.
17/12/15