FRIAS Alumni publish results on "Hyperpolarized Equilibrium for Magnetic Resonance" in Nature Communications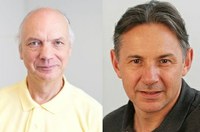 FRIAS Alumni Hennig & Korvink
FRIAS Alumni Jürgen Hennig and Jan Korvink have published a paper on "Hyperpolarized Equilibrium for Magnetic Resonance" in the prestigious journal Nature Communications.
The technique derives from a method published in 2009, and achieves the spin polarisation completely magnet free by transferring the ground state of hydrogen to a substrate molecule. In this paper, the authors show that it is possible to achieve a steady state spin polarisation at a level significantly higher than that achievable using current superconducting magnets, in fact, as if they had used magnets with a strength between 100 and 1000 Tesla. By comparison, other centres are currently planning a 100 Tesla pulsed field experiment only.
The results of this study promise to have a major impact on micro nuclear magnetic resonance, by pushing down the minimum detectable mass and making it theoretically possible to record signals from around a cubic micrometer of analyte, for example in vivo in a cell.
12/2013
Original publication:
J.B. Hövener, N. Schwaderlapp, T. Lickert, S.B. Duckett, R.E. Mewis, L.A.R. Highton, S.M. Kenny, G.G.R. Green, D. Leibfritz, J.G. Korvink, J. Hennig, D.V. Elverfeldt (12/2013): A Hyperpolarized Equilibrium for Magnetic Resonance, Nat Commun, 2013: http://dx.doi.org/10.1038/ncomms3946