FRIAS Competition for Junior Researcher Conferences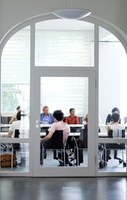 FRIAS Competition for Junior Researcher Conferences
The Freiburg Institute for Advanced Studies is calling for proposals for junior researcher workshops/conferences from any academic/scientific field which is of relevance to the research activities at the University of Freiburg. The workshops/conferences will take place at FRIAS between July 2014 and March 2015.
The call is addressed to junior researchers of all disciplines at the University of Freiburg (PhD candidates, PostDocs, non-tenured researchers).
Application deadline: April 06, 2014.
>> Call for proposals and further information
02/2014