How to age healthy – FRIAS Research Focus analyses membrane trafficking in aging and disease
One of the biggest challenges for modern societies is how to deal with age-related diseases. Due to improved medical care, life expectancy has increased worldwide – however, the process of aging causes impairments of physiological functions and a higher susceptibility to diseases, which negatively affect the quality of life.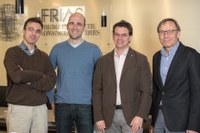 Aging causes progressive deterioration of tissues and organs. Especially in Western societies, aging implies a higher risk for heart diseases, cancer or neurodegenerative diseases like Alzheimers or Parkinson Disease. A significant task of research in medicine therefore now concentrates on how to enable healthy aging.
The FRIAS Research Focus "Membrane Trafficking in Aging and Disease" started its work in October 2015 and deals with the causes and consequences of aging from the perspective of cell biology, with a particular focus on membrane transport processes as a key factor in aging and disease. A common feature of many age-related diseases are deregulations in membrane transport processes. Membranes are at the center of cellular biology, dividing cells into functional units, so called compartments. Those compartments can be organelles, such as the cell nucleus or the 'power station' of the cells, the mitochondria. With this compartmentalisation, cells prevent harmful particles from passing through the different compartments. Furthermore, membranes transport molecules within and between the cells, thus enabling the accumulation of nutrients. Membranes also trigger and transmit signal process, passing on information between the functional units of the cells.
The phenomenon of "autophagy" also belongs to these membrane trafficking processes. Autophagy is a form of recycling mechanism, with which cells digest their own proteins and organelles without damaging itself. Autophagy is necessary for cellular homeostasis and to dispose nonfunctional organelles, thus influencing the health and lifespan of a person.
In case these transport- and information processes of the membranes are defect, there often is an accumulation of biomolecules and organelles. These deregulations of intracellular membrane trafficking processes are often cause of diseases.
The FRIAS Research Focus therefore analyses deregulations in membrane trafficking that occur both in aging and disease, in order to explore the question of how to enable healthy aging. The group aims to develop new therapeutic approaches, based on a deeper understanding of the biological mechanisms.
The organisers of the group represent different disciplines at the University of Freiburg: Jörn Dengjel, speaker of the focus, is professor fin the Department of Dermatology; Klaus Aktories is professor for pharmacology and toxicology; Stefan Eimer is professor for neuronal cell biology and Tobias Huber is professor in the Department of Nephrology. Together with colleagues from Freiburg and abroad they analyse different scientific aspects of the research topic. For this aim, they use modern analytical methods, such as different model organisms, advanced molecular biology and protein biochemistry, and 'omics' approaches, which allow for a simultaneous analysis and measurement of molecules.

From January 29 to 31, 2016, the group is organizing a workshop, inviting distinguished researchers from all over the world in order to discuss new findings related to the regulation of autophagic membrane trafficking and dynamics in aging and disease. The Research Focus is committed not only to strengthen top-level research on aging, but also to broach questions concerning the societal dimensions of aging. Therefore, the conference begins with a public lecture by Prof. Frank Madeo, who will explain connections between nutrition and healthy aging.
Further information on the Research Focus "Membrane Trafficking in Aging and Disease".
Further information on the conference "Autophagic Membrane Trafficking and Dynamics in Aging and Disease".
12/2015