ERC Starting Grant for Miriam Erlacher
Two of FRIAS' former Junior Fellows have been awarded one of the most prestigious grants in Europe. Dr Miriam Erlacher (medicine) and Dr Karen Lienkamp (chemistry) will each receive an ERC Starting Grant of around 1.5 million from the European Union euros to support their research work over the next five years.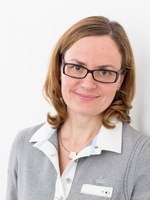 In her project entitled ApoptoMDS, paediatrician Miriam Erlacher will examine how severe abnormal cell death causes blood diseases and, ultimately, leukaemia. Her research focuses on the role that programmed cell death (apoptosis) plays in congenital bone marrow failure and myelodysplastic syndromes (MDS). Both diseases are characterised by low blood counts and the risk of a future onset of leukaemia. With her team, Erlacher intends to examine cell death mechanisms at various disease stages and use its findings to develop new lines of treatment. Miriam Erlacher is a paediatrician at the Department of Pediatric Hematology and Oncology at the University Medical Center Freiburg. She prepared her application for the ERC Grant during her 10-month fellowship at FRIAS in 2013/14.
The European Research Council's highly competitive funding programme (ERC Starting Grants) is aimed at supporting the top-level research of independent, early-stage researchers from all disciplines. The ERC's sole selection criterion is the applicant's academic excellence. Of the 3,272 applications submitted in this round, 328 projects were recommended for funding. The selected academics will receive funding for up to five years.
01/2015