Black Forest Winter Conference: "Autophagic Membrane Trafficking & Dynamics in Aging and Disease
FRIAS Fellows Jörn Dengjel, Klaus Aktories, Stefan Eimer, Tobias B. Huber, as well as Gian Maria Fimia and Frank Madeo are organizing a high level conference on Autophagic Membrane Trafficking and Dynamics in Ageing and Disease, on January 29-31, 2016.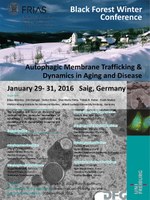 The FRIAS high level workshop series intends to combine the casual atmosphere of a Gordon research conference (only invited speakers, sufficient time for discussions) with superior accommodation and services. For more information regarding FRIAS and our research please follow this link: https://www.frias.uni-freiburg.de/en/routes-to-frias/foci/membrane-trafficking-in-ageing-and-disease.
The workshop will focus on discussing new findings related to deregulation of autophagic membrane trafficking and dynamics in ageing and disease.
The idea is to bring together cell/molecular biological as well as technical experts to address questions related to the regulation of autophagy, its crosstalk with the ubiquitin-proteasome system, and its analysis using new experimental approaches.
The meeting venue site is located directly in the Black Forest area only five minutes away from a ski resort. The cozy Hotel Saigerhoeh (http://www.saigerhoeh.de), in the typical design of the region, will host the meeting, which is dedicated to exciting science, intensive discussions and free time for interactions and enjoying the extraordinary black forest area.
More information on the conference.
08/2015