Academic ties across continents
FRIAS aims at strengthening its ties to researchers from Africa. Last week, FRIAS director Bernd Kortmann welcomed a delegation from the University of Namibia. The goal: networking with research institutes in the upper Rhine area.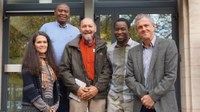 Photo: FRIAS
Freiburg welcomed a delegation of the department of political science from the University of Namibia: During their one-week stay from November 11-15, 2019, Professor emeritus Andre du Pisani, Professor Lesley Blaauw, and lecturer Job Shipululo Amupanda also visited FRIAS. The delegation made use of the opportunity and consultedwith FRIAS director Professor Bernd Kortmann on how to strengthen academic ties between Freiburg and Namibian researchers.
Andre du Pisani had been invited to the "Freiburger Afrika Gespräche | Freiburg Africa Talks", a lunch lecture series hosted by the Africa Center for Transregional Research that is currently established at the University of Freiburg. Together with Professor Reinhart Kößler from the Arnold Bergstraesser Institute (ABI), du Pisani reflected on the German-Namibian relations that were shaped by the German colonial rule in Namibia in the late 19th and early 20th century.
The one-week stay in the Upper Rhine region proved a welcome opportunity for the Namibian visitors to strengthen already-existing ties. In a sense, it was also a long-expected return visit: When in February 2019 Baden-Württemberg's minister of research Theresia Bauer travelled to Namibia to restitute cultural artefacts taken during the colonial period, FRIAS director Bernd Kortmann was part of the delegation of researchers that accompanied the minister.
At FRIAS, du Pisani, Blaauw and Amupanda joined the fellows working in the humanities in their weekly colloquium. Especially du Pisani was very impressed by the productive atmosphere of the colloquium and expressed his hopes that a similar exchange for researchers from a variety of disciplines could be established at his home university.
It is a truism that interaction and exchange are vital for research to be successful. For that reason, FRIAS has made it its core mission to enable academic exchange across borders, both disciplinary and cultural. Regarding the "Western" world, this enterprise has been fruitful. Since the foundation of the institute, academics not only from Europe but from the North and South Americas, from Asia and Australia have come to pursue their research as FRIAS fellows. Fellows from Africa, however, are still rare. Only two African countries, Uganda and Egypt, are represented in the long list of the FRIAS fellows' countries of origin.
Unfortunately, asymmetries between African and Western researchers can still be observed frequently. At FRIAS, this is about to change. With its international orientation, the institute engages in promoting transcontinental networks and advocates collaborations with African researchers. Working sessions and visits, although occasional, are a necessary step towards shaping a truly international and inclusive academia.


Further information